A delicious recipe made from cube steaks and beef broth. The crockpot cube steaks recipe is an excellent dinner option as main dish for large families.
Crock pot cube steak is a hearty slow-cooker recipe that's really easy to prepare. It's an excellent dinner option, especially during weekends, since it takes quite some time before it's ready. This meal can be served with mashed potatoes and a light veggie side, providing you with lots of nutritious goodness.
This crockpot cube steak with gravy is my favorite easy slow cooker dish, and it just takes a few minutes to prepare, so it's ideal for busy weeknights! You'll be putting this on the dinner menu every week with just a handful of ingredients! You'll fall in love with your slow cooker after trying this simple crockpot cube steak dish!
This dish always makes me miss home. When I was a kid, my mother used to make stuff like this for our family on a regular basis. Crockpots saved her a lot of time, and by the time we sat down to eat, we'd been smelling and anticipating the main dish all day.
Tender, juicy cube steak is topped with flavorful slow-cooked onions and luscious mushrooms and smothered in a thick and creamy sauce. Mushrooms have always been a favorite of mine. It's a filling dish. This dish is enhanced by the addition of cream of mushroom soup.
This is a super simple recipe with only a few ingredients and three stages, and the crockpot makes it even easier. It goes a long way because you can serve it with any sort of rice, potatoes, or pasta. Be on the lookout for some extra delectable leftovers!
Total time to prepare: 9 hours 25 minutes
Servings: 4 servings.
Print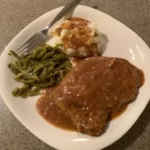 CROCKPOT CUBE STEAK
---
2 lb. cube steak (about 4 pieces)
2 tsp. kosher salt
1½ tsp. freshly ground black pepper
2 tsp. garlic powder
2 large yellow onion, sliced into 1/4″ rings
1 (2-oz.) packet onion soup mix
1 cup of low-sodium beef broth
¼ cup of cold water
2 tbsp. of cornstarch
Buttered egg noodles, for serving
---
Instructions
Step 1: Place the steaks in slow cooker and season with salt and pepper. Add garlic powder, onion, onion soup mix, and beef broth to the steaks.
Step 2: Set the slow cooker to cook on low heat for 8 hours. An hour before you serve, add cold water and cornstarch together in a small bowl, mix well and then add into slow cooker.
Step 3: After adding the cornstarch mix, set the heat to high and leave the steak to cook until the gravy is thickened. Stir consistently while it cooks.
Step 4: Serve cooked steaks with buttered egg noodles. Garnish with more pepper to enjoy better.