Crockpot Potato Soup is always a hit! It delivers the classic, comforting flavor you desire in a traditional potato soup, while this healthier rendition is much better for your well-being.
Choosing the right potatoes for your Crockpot Potato Soup :
Selecting the ideal type of potato for your Crockpot Potato Soup is crucial for achieving the desired consistency and texture. Russet potatoes are a popular choice due to their high starch content, which helps thicken the soup and create a creamy base. Yukon Gold potatoes are another excellent option, as they hold their shape well during the slow cooking process and have a buttery flavor that complements the soup. Remember to wash and peel your potatoes before adding them to the slow cooker to ensure the best results.
Adding depth of flavor with spices and herbs
Enhancing the flavor profile of your Crockpot Potato Soup is simple when you incorporate a variety of spices and herbs. Common seasonings include salt, pepper, garlic powder, onion powder, and paprika. For a more complex taste, consider adding fresh herbs like thyme, rosemary, or parsley, which can be tied in a bouquet garni and removed after cooking. Adding a bay leaf can also impart subtle depth to the soup. Experiment with different combinations of spices and herbs to create a uniquely delicious potato soup that suits your preferences.
 Incorporating various textures with toppings and mix-ins
Elevate your Crockpot Potato Soup by introducing a variety of textures through toppings and mix-ins. Consider stirring in sour cream or heavy cream for added richness, or using cooked bacon, ham, or shredded chicken for a meaty addition. Cheese lovers will enjoy the creaminess that shredded cheddar or pepper jack cheese can bring to the dish. For a touch of crunch, sprinkle chopped green onions, chives, or even croutons on top of the soup just before serving. These extra elements not only enhance the soup's texture but also add visual appeal to the dish.
Cooking tips and tricks for the perfect Crockpot Potato Soup
To ensure your Crockpot Potato Soup turns out perfectly, follow these simple cooking tips and tricks. First, cut your potatoes into uniform pieces to ensure even cooking. Next, layer the ingredients in the slow cooker in the recommended order, typically starting with the potatoes, followed by the vegetables, and then the broth. Cook the soup on low heat for a longer period, usually 6 to 8 hours, to allow the flavors to meld and the potatoes to become tender. Finally, use an immersion blender or potato masher to achieve your desired soup consistency, whether smooth and creamy or chunky and rustic.
Serving suggestions and complementary side dishes
Crockpot Potato Soup can be a filling meal on its own, but pairing it with complementary side dishes can create a well-rounded dining experience. Consider serving the soup alongside a fresh green salad, a crusty baguette, or a warm slice of cornbread. For a heartier accompaniment, try pairing the soup with a grilled cheese sandwich or a flavorful panini. Experiment with different side dishes to discover the perfect combination that elevates your Crockpot Potato Soup to new heights.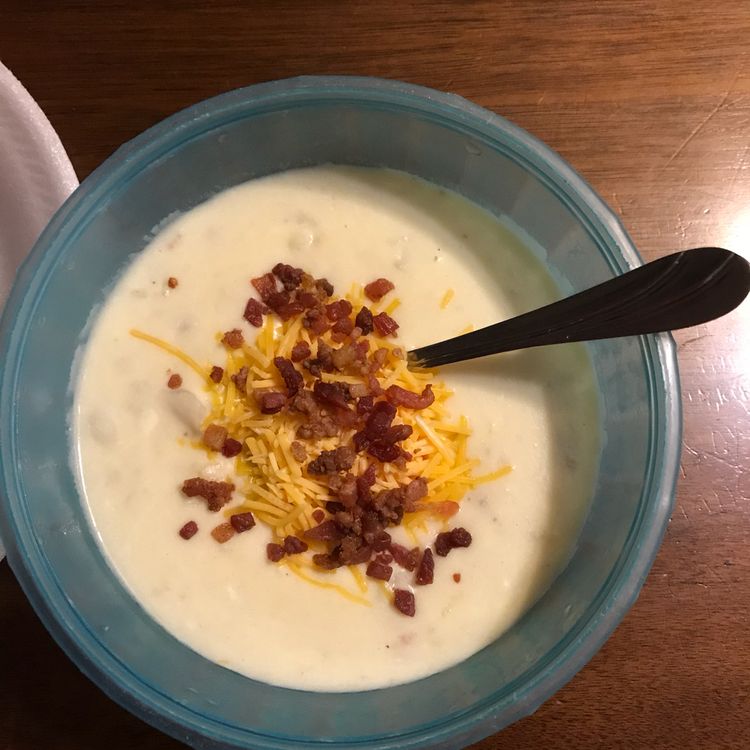 POTATO SOUP INGREDIENTS :
Frozen Hash Brown Potatoes: There's no need to go through the hassle of prepping potatoes when you can purchase frozen hash browns. They come already peeled and diced to perfection, saving you valuable time and effort in the kitchen.
Chicken Broth: For added flavor and nutritional value, swap out water for chicken broth. It brings a robust, savory taste to the soup that enhances the overall experience.
Condensed Cream of Chicken Soup: This ingredient serves as the backbone of the soup, providing it with the delicious flavor that everyone craves. It's a lifesaver for those who want a tasty soup without the fuss.
Onion and Red/Green Bell Pepper: Finely chop the onion to avoid biting into a large chunk of onion. Red and green bell peppers add a lovely splash of color to the soup and contribute great flavor.
Cream Cheese: To achieve that perfect creamy texture, add half of a regular brick of cream cheese. It is the key ingredient that gives the soup its rich and smooth consistency.
Bay Leaves: For added depth of flavor, include bay leaves in your recipe. This herb is perfect for soups and stews and imparts a fantastic taste. Don't forget to remove them from the soup once it's ready to serve.
To make a delicious Crockpot Potato Soup, follow these easy steps:
Step 1: Add the Ingredients
First, add the frozen hash brown potatoes, finely chopped onion, and chopped red and green bell peppers to the pot of your slow cooker. Make sure to discard any bell pepper seeds, as they can ruin the texture of the soup.
Step 2: Pour in Chicken Broth
Pour in the chicken broth for added flavor and nutritional value. If you want to boost the protein content of the soup, use chicken bone broth, which contains 9 grams of protein per cup. This will make your soup a more balanced meal.
Step 3: Add the Condensed Cream of Chicken Soup and Spices
Mix in the undiluted condensed cream of chicken soup, salt, freshly ground pepper, and bay leaves. Cook the soup on low heat for 6 hours.
Step 4: Add the Cream Cheese
One hour before the cooking time is up, take the cream cheese out of the refrigerator and let it soften for 30 minutes. Mix it into the soup to create a smooth and creamy texture.
By following these simple steps, you'll have a hearty and flavorful Crockpot Potato Soup that is sure to become a household favorite.
Scroll to Bottom for Printable Recipe Card.
Print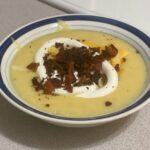 Crockpot Potato Soup
---
Author:

Total Time:

6 hours 10 minutes
Description
Crockpot Potato Soup is hearty and creamy and it warms your soul as well as your body. It is comforting and delicious.
---
1

–

30

oz bag of frozen hash brown potatoes

3 cups

chicken broth

1

–

10.75

oz can of condensed cream of chicken soup

2

bay leaves

1/4 cup

chopped green bell pepper

4 oz

cream cheese, softened

1/2 cup

finely chopped onion

1/4 cup

chopped red bell pepper
Salt and freshly ground pepper to taste
Green onions, shredded cheddar cheese, and crumbled cooked bacon for garnish (optional)
---
Instructions
Add the hash brown potatoes, chopped onion, and chopped green and red bell peppers into the pot of your slow cooker.
Pour in the chicken broth to give the soup added flavor.
Mix in the condensed cream of chicken soup, bay leaves, and season with salt and pepper. Cook on low for 6 hours.
30 minutes before the cook time is over, stir in the softened cream cheese. This will create a smooth and creamy texture that is perfect for soup.
Continue cooking the soup for the remaining time.
Once the soup is ready, serve it hot and garnish it with green onions, shredded cheddar cheese, and crumbled cooked bacon if desired.
Notes
By following these instructions and using these ingredients, you'll have a delicious and wholesome Crockpot Potato Soup that everyone will love.
Prep Time:

10 MINS

Cook Time:

6 hours

Category:

Dinner

Cuisine:

American
Keywords: Crockpot Potato Soup
[inline_related_posts title="CHECK OUT THESE AWESOME, EASY RECIPES:" title_align="left" style="list" number="4″ align="none" ids="" by="categories" orderby="rand" order="DESC" hide_thumb="no" thumb_right="no" views="no" date="yes" grid_columns="2″ post_type="" tax=""]