I love how easy it is making such a delicious coleslaw! This recipe is a winner! A big thanks to my friend, Leah, for sharing this recipe with me. I never would have tasted perfection if it wasn't for you! If you have more time before any meal, make sure to leave it inside the fridge for more than 2 hours. The more the veggies are soaked in the seasonings, the more delicious they get! Serve this with fried chicken, and you have yourself a meal to remember! What are you waiting for? It is time to go to your kitchen and start prepping! Have a blessed day, friends, and I hope you are all well today. Invite your loved ones over. Enjoy!
Prep Time: 15 mins | Chill Time: 2 hrs | Total Time: 2 hrs 15 mins | Yield: 6 Servings
Print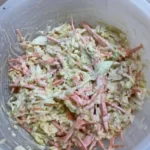 DELICIOUS COLESLAW RECIPE
---
¼ c (40 g) minced sweet onion or green onions
1 tsp (5 ml) celery seeds
1 c (224 g) mayo
2 tbsp (30 ml) of sugar
kosher salt, to taste
fresh cracked black pepper
2 tsp (10 ml) mustard
½ tsp (2.5 ml) dried dill or dried herbs
3 tbsp (45 ml) of apple cider vinegar or white distilled vinegar
¼ c (15 g) minced fresh parsley
½ tsp garlic powder, optional
½ tsp onion powder, optional
---
Instructions
Add the vinegar, mayonnaise, garlic powder, onion powder, sugar, mustard, celery seeds, onion, salt, pepper, and dried herbs into a mixing bowl. Stir until well blended. Add more seasonings if needed.
Add the carrots and cabbage. Stir until well combined.
Place the bowl in the fridge to chill for at least 2 hours.
Serve and enjoy!
Notes
Nutrition Facts:
calories: 299 kcal, carbohydrates: 10g, protein: 1g, fat: 28g, saturated fat: 4g, cholesterol: 15mg, sodium: 279mg, potassium: 186mg, fiber: 2g, sugar: 7g, vitamin a: 2310IU, vitamin c: 29.9mg, calcium: 44mg, iron: 0.8mg