Dutch Apple Bread is a delightful dessert bread that combines the comforting flavors of apples, cinnamon, and nuts in a moist, tender loaf. With its origins in Dutch cuisine, this delicious treat has gained popularity worldwide and is loved for its simplicity and rich, aromatic taste. In this blog post, we'll explore the history and inspiration behind Dutch Apple Bread, and guide you through creating this scrumptious dessert that is perfect for serving at family gatherings, holiday celebrations, or simply enjoying with a warm cup of tea.
This flavorful bread brings together the sweetness of apples, the warmth of cinnamon, and the crunch of nuts, resulting in a mouthwatering combination that is sure to satisfy your cravings. With its impressive presentation and delectable taste, Dutch Apple Bread is a dessert that everyone will enjoy and remember.
Ingredients and Preparation :
To create the perfect Dutch Apple Bread, you'll need a selection of ingredients that include all-purpose flour, granulated sugar, baking powder, salt, ground cinnamon, milk, vegetable oil, eggs, apples, and nuts (such as walnuts or pecans). Additionally, you'll need ingredients for the cinnamon-sugar crust and glaze, which include granulated sugar, ground cinnamon, and powdered sugar, milk, and vanilla extract.
Begin by preparing the apple bread batter, combining the dry ingredients (flour, sugar, baking powder, salt, and cinnamon) in a large mixing bowl. In a separate bowl, whisk together the wet ingredients (milk, vegetable oil, and eggs) and then add this mixture to the dry ingredients, stirring until just combined. Fold in the chopped apples and nuts, being careful not to overmix the batter. Pour the batter into a greased loaf pan, and sprinkle the cinnamon-sugar mixture on top for a deliciously sweet crust.
Baking Techniques and Tips :
To achieve a perfectly baked Dutch Apple Bread, it's essential to follow a few key techniques and tips. First, preheat your oven to 350°F (175°C), ensuring that the temperature is accurate and consistent throughout the baking process. This will help create a fluffy, moist, and evenly baked bread.
Bake the Dutch Apple Bread for 50-60 minutes, or until a toothpick inserted in the center comes out clean. Keep an eye on the bread during the final stages of baking to prevent overbrowning or drying out. If the bread is browning too quickly, you can cover it with aluminum foil to protect the crust.
Allow the bread to cool in the pan for about 10 minutes before transferring it to a wire rack to cool completely. This will make it easier to slice and serve.
Glaze and Toppings :
To add an extra layer of sweetness and flavor to your Dutch Apple Bread, you can prepare a simple glaze using powdered sugar, milk, and vanilla extract. Combine these ingredients in a small bowl, adjusting the consistency by adding more milk or sugar as needed. Once the bread has cooled completely, drizzle the glaze over the top, allowing it to set before serving.
Additional toppings, such as a streusel mixture or a sprinkling of chopped nuts, can also be added to enhance the bread's appearance and taste. Experiment with different toppings to find the perfect combination that suits your preferences.
Serving Suggestions and Storage :
Dutch Apple Bread is a versatile dessert that can be enjoyed in various ways. Serve it slightly warm or at room temperature, either plain or with a spread of softened butter or cream cheese. Pair the bread with a cup of coffee, tea, or a cold glass of milk for a comforting and satisfying treat.
To store your Dutch Apple Bread, wrap it tightly in plastic wrap or aluminum foil and keep it at room temperature for up to 3 days or in the refrigerator for up to 5 days. For longer storage, consider freezing the bread. To do this, wrap the loaf tightly in plastic wrap and aluminum foil, then place it in a freezer-safe bag or container. Dutch Apple Bread can be stored in the freezer for up to 3 months. When you're ready to enjoy the bread, allow it to thaw at room temperature before serving.
Dutch Apple Bread is not only a delicious dessert, but it also makes for a thoughtful and impressive homemade gift. Wrap the loaf in parchment paper, tie it with a ribbon, and present it to friends, family, or neighbors for a memorable and tasty treat.
Now that you're equipped with all the information, tips, and techniques needed to create a mouthwatering Dutch Apple Bread, it's time to gather your ingredients and embark on your baking journey. This delightful dessert is sure to become a favorite in your household and will leave a lasting impression on everyone who has the pleasure of enjoying it. Happy baking!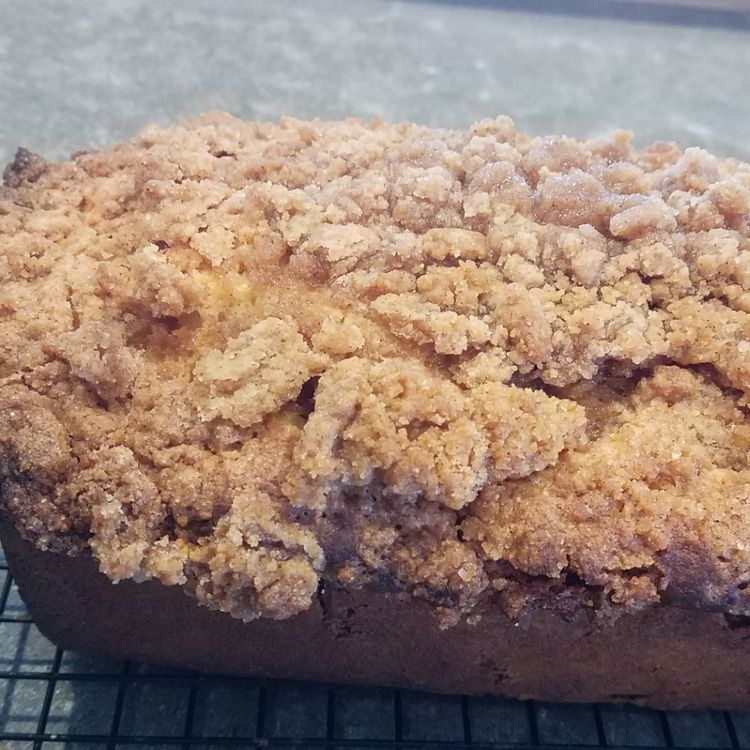 How do you make Dutch Apple Bread moist and fluffy?
To ensure your Dutch Apple Bread is moist and fluffy, begin by using fresh baking powder, as this contributes to the bread's rise and fluffiness. Additionally, take the time to sift your flour, as this aerates it and results in a lighter, airier loaf.
Incorporating apple slices and egg yolks also helps to add moisture to the bread. Opt for large eggs with substantial yolks for the best results.
What apples should you use for Dutch Apple Bread?
When selecting apples for this recipe, choose firm, tart varieties such as Honeycrisp, Fuji, or Granny Smith. These apples hold their shape during baking and won't turn into a mushy puree, providing a pleasing texture and flavor.
Why is my Dutch Apple Bread dry?
If your Dutch Apple Bread turns out dry, there could be a couple of reasons:
First, consider using a kitchen scale to measure the flour accurately. Adding too much flour can lead to a dry, dense bread.

Second, keep a close eye on the baking time and your oven's temperature. Check the apple bread for doneness after 55 minutes by inserting a toothpick into the center. If it comes out clean and dry, your bread is ready to be removed from the oven.
Scroll to Bottom for Printable Recipe Card.
Print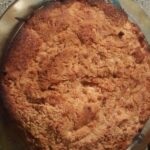 Dutch Apple Bread
---
Author:

Total Time:

1 hour 15 minutes
Description
This scrumptious apple bread recipe is a breeze to make and doesn't require any yeast, creating the perfect dessert bread in no time. The result is a fluffy, moist, and incredibly aromatic loaf that's studded with chunks of apple and nuts. To top it all off, it boasts a cinnamon-sugar crust and a delectable glaze, making this apple bread a must-try treat for any dessert lover!
---
1/2 cup

softened butter (

1

stick)

1 cup

granulated sugar

2

large eggs

1/2 cup

milk

1 tsp

vanilla extract

2 cups

all-purpose flour

1/2 tsp

salt

1 tsp

baking powder

1 1/2 cups

diced peeled green apple

1/2 cup

chopped walnuts or pecans
Topping:
5 tbsp

cold butter

1/3 cup

flour

2 tbsp

granulated sugar

2 tbsp

brown sugar

2 tsp

ground cinnamon
Vanilla Glaze:
1 tbsp

melted butter

1/2 cup

powdered sugar

1 tbsp

milk

1/4 tsp

vanilla extract
---
Instructions
In a large mixing bowl, cream together the softened butter and sugar until light and fluffy. Add the eggs, milk, and vanilla extract, whisking until well combined.
Gradually add the flour, salt, and baking powder to the wet ingredients, stirring gently until just mixed.
Fold in the diced apples and chopped nuts, taking care not to overmix.
For the topping, combine the cold butter, flour, granulated sugar, brown sugar, and ground cinnamon in a small bowl. Use a fork or pastry cutter to create a crumbly mixture.
Pour the dough into a parchment-lined 10x4x3-inch loaf pan, and evenly sprinkle the topping over the batter.
Bake in a preheated 350°F oven for 55-60 minutes, or until a toothpick inserted into the center comes out clean. Allow the bread to cool on a wire rack.
While the bread cools, whisk together the melted butter, powdered sugar, milk, and vanilla extract to create the vanilla glaze. Once the bread has cooled, drizzle the glaze over the top and enjoy!
Prep Time:

15 minutes

Cook Time:

1 hour

Category:

DESSERT

Cuisine:

American
Keywords: Dutch Apple Bread
[inline_related_posts title="CHECK OUT THESE AWESOME, EASY RECIPES:" title_align="left" style="list" number="4″ align="none" ids="" by="categories" orderby="rand" order="DESC" hide_thumb="no" thumb_right="no" views="no" date="yes" grid_columns="2″ post_type="" tax=""]