My family loves lasagna and I like to switch up from a traditional red sauce lasagna and make an alfredo based one – Chicken and Broccoli is fantastic! My kids like this better than a red sauced lasagna. It is a fantastic way to incorporate broccoli if anyone isn't fond of the vegetable plain. Alfredo sauce makes broccoli delicious!
I have made this for group dinners and when we have company, and it is always popular. It is also a great item to make for a meal train or to deliver on your own. I like to make 2 at a time and freeze one (See Notes). I have doubled and tripled the recipe with great success , used disposable pans, and put them in the freezer. This dish is that good and it is comforting knowing I have extra on hand for anything life throws at me!
Serve with a salad and garlic bread and dinner is complete!
Notes:
• Oven-ready lasagna noodles are my favorite and convenient, but they do finish more al dente than regular boiled noodles. If you prefer boiled noodles, that will work too and just prepare them prior to beginning assembly.
• Fresh broccoli works the best and frozen broccoli makes the lasagna watery.
• I love using leftover chicken and this is a perfect dish – if you have a store-bought rotisserie chicken, it is delicious too.
• To make ahead of time, store the unbaked lasagna in the fridge covered with plastic wrap. When you bake, add a few extra minutes to ensure it cooks all the way through.
• Leftover lasagna keeps well in the fridge for up to a week and makes great quick lunches.
• Freezing Whole Lasagna: Cover unbaked lasagna tightly with plastic wrap and the foil. Partially defrost before baking and remove plastic wrap. Bake per recipe instructions except for 1 hour with the foil and then 15-20 minutes without the foil.
Print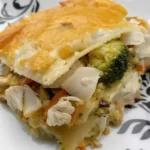 Easy Chicken and Broccoli Lasagna
---
8 no-bake lasagna noodles (See Notes)
4 cups pre-cooked or rotisserie chicken, shredded or chopped
4–5 cups fresh broccoli florets, chopped into small pieces
3 cups mozzarella cheese
1 cup ricotta cheese
1 egg
1/2 tsp. dried basil
1/4 tsp. dried oregano
1 Tbsp. parsley
1/2 cup shredded parmesan cheese – divided
1 24 oz. jar of Alfredo sauce
---
Instructions
Preheat oven to 350°F.
Spray a 9×9 baking dish with cooking spray.
In a bowl combine ricotta cheese, 1/4 cup shredded parmesan, egg, basil, oregano, and parsley. Stir well.
Spread a small amount of Alfredo sauce to cover the bottom of the dish.
Lay 4 lasagna noodles onto the bottom of the dish. You may have to break them in half and overlap them a bit.
On top of the lasagna noodles, layer on half of the chicken.
Then layer on half of the broccoli.
Pour half of the sauce over the top of everything. Make sure you get the edges and into the corners! If the noodles are not covered, they will not cook properly and will be dry.
Use half the ricotta mixture and place dollops over the sauce layer. No need to spread.
Top with half the mozzarella cheese and 1/4 cup shredded parmesan cheese.
Repeat with the remaining ingredients: noodles, chicken, broccoli, sauce, ricotta mixture, and remaining mozzarella.
Cover the dish with tented foil (spay the inside of foil with oil so it doesn't stick to cheese) and bake at 350°F for 35-40 minutes.
Uncover and bake another 15-20 minutes until lasagna is bubbly and cheese is nice and melted. Optional: broil for 2-3 minutes to get the cheese bubbly.
Allow the dish to rest for 10-15 minute. Cut into squares and serve!