Chicken noodle soup is nice and hearty, and the best part is that you can make it in a crock pot, making it super soft, and super great for when it's a cold day, or if you're looking to make a lot if you're sick or just want something warm and hearty.
Tips:
Should the chicken be cooked before throwing it in the soup?
It isn't necessary, since the slow cooker can help with that. Adding the boneless, skinless chicken into there and then letting this cook for about 6 hours makes this super tender. You can then take this out, use forks to shred this, and then, put it back into your slow cooker and then stir the chicken to mix this with the rest of the soup to create a wonderful, flavorful dish to this.
What are the best herbs to add to this?
There are tons of great things that you can add. Herbs that are fresh, a clove of garlic, and a bay leaf definitely will want to be added to this to make it really flavorful.
Typically, you don't need to add a bunch of salt, but if you feel like something's missing and you can't put your finger on it, then a pinch of sea salt, or some olive oil or a lemon squeeze will help with this.
For those who love the spice, adding a bit of crushed red pepper or some cayenne to this will offer a nice dose of heat to this.
Do the herbs need to be fresh?
You don't have to use fresh herbs, but it does enhance the flavor. However, since not everyone has fresh herbs on hand, usually just a couple shakes from the shaker will do the trick with this one.
What noodles can I use for this?
The recipe in this case calls for egg noodles, however, rigatoni, bowtie, and even some pasta noodles will help to make this really good.
Can this be Frozen?
Yes, just don't cook t
he noodles. The soup is great reheated, but the noodles will get funky sitting in that, so you'll want to make sure that, if you are going to freeze this, you freeze everything but the noodles, cook them fresh, and then throw them in there when you're reheating the soup. It's simple, and it's something that won't take that long when looking to really add to your cooking needs too.
Print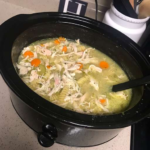 Easy CrockPot Chicken Noodle Soup
---
1 bay leaf
4 tsp. sprigs fresh thyme
1 1/2 lb. boneless skinless chicken breasts
Freshly ground black pepper
10 c. low-sodium chicken broth
8 oz. egg noodles
4 tsp. sprigs fresh rosemary
3 cloves garlic, minced
2 stalks celery, sliced
1 large onion, chopped
3 carrots, peeled and sliced into coins
Kosher salt
---
Instructions
Steps
Get a slow cooker and combine the veggies and spices together, then season it with pepper and salt, and then add in the brother.
Put it all in the slow cooker, add the cover to the top of this, and then cook it on low for up to 8 hours. Take the chicken out, shred this, then get rid of the bay leaf and herbs, and then put the chicken in there, and also add the egg noodles with this.
Cook this al dente in a covered and low heat setting, around 20-30 minutes.