We love this pizza because it satisfies a craving for pizza and a craving for tacos all together. The kids love helping to construct the pizza and adding their own toppings. It is a delicious and fun dinner!
Another fun idea that we do is when the kids have friends over. I divide the dough so each has their own, let them assemble their pizza, and then they choose the cold toppings. It is a creative project and everyone really enjoys making their own pizza!
I don't always make my own crust. Store-bought dough is delicious as well and saves some time. The finished pizza is fantastic either way.
I hope you enjoy this unique version of pizza as much as we do!
Notes:
• The homemade crust makes 2 rounds that are 12" each.
• When making the homemade crust, make sure you roll it out on a floured surface for easy transfer to the pizza stone.
• If you do not have a pizza stone, use oiled pizza pans.
• Sprinkle a little cornmeal on the pizza stone before placing the pizza. This gives a great texture to the crust and the slight cornmeal flavor is really nice!
Print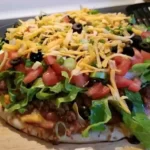 Easy Taco Pizza
---
Pizza Crust – Homemade
1 packet active dry yeast
½ tsp. brown sugar
1 ½ cups warm water – 110° F
1 tsp. salt
2 Tbsp. olive oil
3 cups all-purpose flour – more if necessary
Pizza Crust – Store-Bought
1 10 ounce can refrigerated pizza dough
Pizza Sauce
1 cup canned refried beans
¼ cup taco sauce
¼ cup pizza sauce
Topping – Before Baking
1 pound ground beef
1 packet taco seasoning
8 oz. mozzarella cheese shredded, or more to taste
8 oz. Colby jack cheese shredded, or more to taste
Toppings – Optional for Serving
1 bag shredded lettuce
Taco Doritos or Plain Tortilla Chips
Sour Cream
Taco Sauce
Diced Tomatoes
Black Olives
Sliced Green Onion
---
Instructions
• Homemade Pizza Crust
Start by dissolving yeast and brown sugar in warm water for 10 minutes.
Stir in salt and olive oil.
In a mixing bowl, measure the flour.
Pour yeast mixture over the flour and stir until combined.
Turn out the dough onto a well-floured surface.
Knead until the dough is no longer sticky. You may need more flour, so just keep kneading and adding the flour slowly until it's no longer sticky.
Place the dough onto a well-oiled bowl, cover with a dish cloth, and place in a warm, dry place and let rise for an hour.
After the hour is up, the dough should be significantly larger.
Punch it down, and then dump it out onto a lightly floured surface.
Cut the dough into two.
Place one ball of dough aside.
Roll the dough out with a floured rolling pin into a 12" circle – about ¼" – ½" thick.
Repeat with other half of the dough.
• Store-Bought Pizza Dough
Unroll pizza dough onto an ungreased cookie sheet. (I used a 10×15 cookie sheet).
Let dough sit at room temperature for 5 minutes.
Press dough over the bottom and up along all 4 sides the of cookie sheet.
Bake pizza dough for 8-10 minutes, or until lightly golden.
Remove from oven.
Ground Beef
In a skillet, brown the ground beef until no longer pink, then mix in taco seasoning. Set aside.
Pizza Sauce
In a bowl, combine refried beans, taco sauce, and pizza sauce.
Assemble the Pizza
• Homemade Crust – Preheat oven and pizza stones for 15 minutes at 425° F.
You will have 2 crusts to top.
Top dough round with half the pizza sauce.
Top the sauce with half the mozzarella cheese, then half the ground beef, and then half the Colby jack.
Bake on top of pizza stones about 10-15 minutes, or until the dough is golden brown and the cheese is melted.
• Store-Bought Crust – Preheat oven to 375° F.
Top dough with the pizza sauce.
Top the sauce with half the mozzarella cheese, then half the ground beef, and then half the Colby jack.
Return to oven and bake another 5-7 minutes, or until cheese is melted.
Before Serving
Let pizza cool for 5 minutes.
Cut pizza with a pizza cutter and top with desired toppings. You can also let each person top the pizza with the toppings of their choice.