These are some amazing bars. They're filled with chocolate coconut and are cookie bars. Plus, with the graham cracker crust, this is the perfect little dessert bar for fans who want something simple, and that they can enjoy and satisfy their sweet tooth.
They don't take long to make either, or you can save them for later. Some people love to keep these for down the road when they want to have a nice, sweet treat to enjoy. Other people might like them because of how easy they are to make, and the simplistic effectiveness that they has to offer.
Tips:
Do I need to add nuts to this?
You don't have to keep nuts with this. Some people are allergic to nuts, and if you are, then remove the nuts and then cook it as directed, omitting the nut steps as needed.
If you want to add different kind of nuts, you can, but typically, the almonds that are included in this are the better nut.
How do I keep the leftovers?
The best way to keep these leftovers is you take them, and you put them in an airtight container. They do not need to be frozen or put in a fridge but keep them out of direct sunlight so that they don't melt in order to keep them nice and fresh.
You don't have to heat these up either if you want to have them, but instead, just open the container, take out a bar, and have at it. It's a great snack item if you need something on the go, or if you're someone who just wants to have a little pick-me-up for during the week.
Print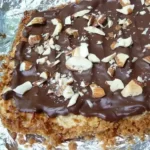 Fantasio Bars With Graham Cracker Crust
---
1/2 cup butter
1/4 cup white sugar
1 1/2 cups graham cracker crumbs
1 1/2 cups flaked coconut
1 (14 ounce) can sweetened condensed milk
1 cup semisweet chocolate chips
1/2 cup almonds, chopped
---
Instructions
First, you want to preheat the oven to 350.
Get a small saucepan and then you stir in the graham crack crumbs along with the sugar. From there, take the mixture once it's properly mixed and put it on the bottom part of a baking dish.
Bake it in an oven until it firms up slightly, usually around 10 or so minutes.
Add in the condensed milk and the coconut together inside a bowl. Spread all of this over the crust to bake, and then, put it back into the oven for at least another 12 minutes. Then, place it to the side to cool for at least 10 or so minutes.
Using a double boiler that has water just barely simmering, stir it frequently and then scrape the sides down using a spatula so that it doesn't scorch. Put the almonds into there, along with the chocolate, and from there spread this in an even fashion over the coconut layer as it cools down. From there let the mixture sit and cool until it becomes firm and hard, when the chocolate sets down.
Once the chocolate has set and hardened, take a serrated knife or a kitchen knife, and start to slice it into small bars. Once that's done, you can place it in an airtight container to maintain freshness.