Breakfast casseroles are so convenient and delicious. We love them in our house especially if we have company. I love making them when the kids have sleepovers (I don't use spicy cheese!) These always are a hit at brunch as well. I usually set out a fruit salad with strawberries, blueberries, peaches, melon, or whatever is in season.
I have made this by just putting the frozen hash browns in the bottom of the baking dish vs. frying the hash browns until crispy before putting them in the baking dish.
They are both delicious but if you like the bottom having more texture and a little more flavor, then getting them crispy is the way to go. I like it best, and it is easier, to use frozen hash browns than try and use fresh potatoes because when you shred fresh potatoes, they turn a funky color, and the texture is off once the casserole is baked.
There are so many ways to tailor this casserole to your taste – Be creative and enjoy!
Notes:
• Use other types of cheese if you like – Swiss, Colby, Monterey, and Sharp Cheddar are great options.
• Add a bit of your favorite hot sauce to the egg mixture for a little kick.
• Instead of Canadian Bacon, you can use cooked breakfast sausage patties crumbled.
• If you prefer, you can substitute regular milk for the evaporated milk. I would stick with whole milk to prevent the casserole from being watery.
• You may also like using frozen Potatoes O'Brien with peppers for a variation.
• Vegetables that go well are mushrooms, chopped spinach, and chopped broccoli.
• Freezing Baked Casserole: When casserole is completely cooled, wrap tightly in plastic wrap and aluminum foil. It will last up to 2 months. When you are ready to bake, let the casserole thaw in the refrigerator. Remove the layer of plastic wrap and bake at 350° F for 10-15 minutes – covering with foil will prevent the top from over-browning.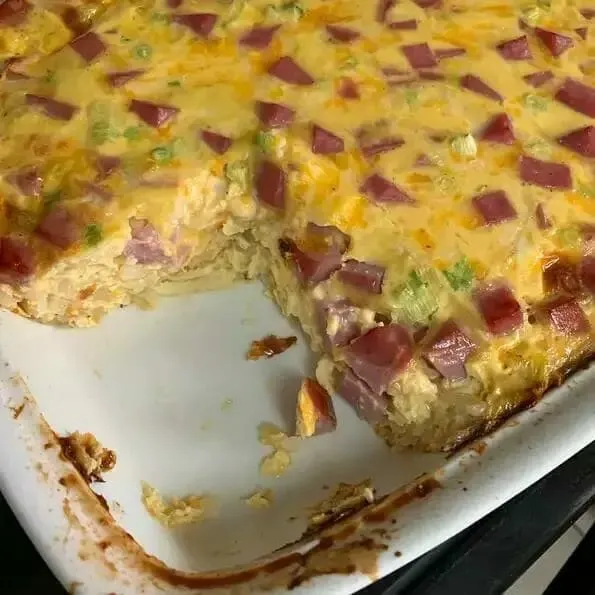 Farmer's Casserole
Ingredients
6 cups of frozen, shredded hash brown potatoes
1 1/2 cups of shredded Pepperjack cheese
6 slices of diced cooked Canadian bacon.
2 sliced green onions.
2 (12 cans) of evaporated milk – regular or 2%
8 large eggs, beaten – or, 2 cups egg substitute
1/4 tsp. of salt.
1/4 tsp. of black pepper.
Instructions
Grease a 3-quart rectangular baking dish.
Arrange potatoes evenly in the bottom of the dish.
Sprinkle with cheese, ham, and green onion.
In a large mixing bowl, combine eggs, milk, salt, and pepper.
Pour egg mixture over potato mixture in dish.
At this point, you can cover and refrigerate until ready to bake (several hours or overnight).
When ready to bake
Preheat oven to 350°F.
Bake, uncovered, for 1 hour and 15 minutes or until the center appears set. If baking after casserole has been chilled, you will need to increase baking time to 1 hour and 30 minutes.
Let stand for 5 minutes before serving.
Nutrition Information:
Amount Per Serving:
Calories:

0
Total Fat:

0g
Saturated Fat:

0g
Trans Fat:

0g
Unsaturated Fat:

0g
Cholesterol:

0mg
Sodium:

0mg
Carbohydrates:

0g
Fiber:

0g
Sugar:

0g
Protein:

0g