If you're a fan of French onion soup and crave the comforting flavors of this classic dish, then you're in for a treat with our French Onion Chicken Bake recipe. This mouthwatering dish combines tender chicken breasts with caramelized onions, gooey cheese, and a rich broth to create a satisfying meal that will have your taste buds singing.
TIPS:
Can I use bone-in chicken instead of boneless?
Absolutely! Bone-in chicken thighs or drumsticks can be used in this recipe as well. Just adjust the cooking time accordingly to ensure the chicken is cooked through.
 Can I use a different type of cheese?
 While Gruyere or Swiss cheese pairs perfectly with the flavors of French onion soup, you can experiment with other cheeses such as provolone, mozzarella, or even cheddar. Choose a cheese that melts well and complements the dish's overall taste.
 Can I make this dish in advance?
 This recipe is best enjoyed fresh out of the oven, but you can prepare the caramelized onions and marinate the chicken in advance. Assemble the dish just before baking for the best results.
 Can I substitute vegetable broth for beef broth?
Yes, you can substitute vegetable broth if you prefer a non-meat option or have dietary restrictions. It will alter the flavor slightly, but the dish will still be delicious.
What can I serve with French Onion Chicken Bake?
This dish pairs well with a variety of sides, such as roasted vegetables, mashed potatoes, or a fresh green salad. It's also great with crusty bread to soak up the flavorful broth.
Print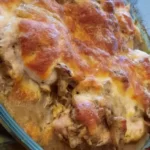 FRENCH ONION CHICKEN BAKE
---
Author:

Total Time:

1 hour

Yield:

4

Servings

1

x
Description
I love this French Onion Chicken Bake so much that this was my fifth time cooking it this week alone! Try this recipe now and prepare to fall in love! Have a spectacular day, friends! Don't forget to share this recipe with your peers as well. Enjoy!
---
4 tablespoons Butter
2 tablespoons Balsamic Vinegar
⅔ c Low Sodium Beef Broth
4 Onions, peeled and sliced
1 c Mozzarella Cheese, shredded
4 Chicken Breasts, boneless skinless
½ c Parmesan Cheese, shredded
½ teaspoon Pepper
½ teaspoon salt
4 cloves Garlic, minced
1 teaspoon thyme
---
Instructions
Prepare the oven and preheat to 200 degrees C or 400 degrees F.
Apply cooking spray in a baking dish.
Put a large skillet on the stove and turn the heat to medium-high.
Add butter and let it melt.
Add the onions, then sauté for a few minutes until soft.
Turn the heat to medium-low, then add the garlic, pepper, and thyme. Sauté until aromatic.
Add the balsamic vinegar and beef broth, then stir until well blended. Make sure to scrape the bottom of the skillet to get the browned bits.
Simmer everything for 10 minutes or until the onions caramelize.
Add ⅓ of the mixture into the prepared baking dish and spread it evenly.
Lay the chicken breasts over the onion layer, then season with salt to taste.
Scatter the rest of the onions over the chicken.
Sprinkle a generous amount of Parmesan and mozzarella cheese on top of the onions.
Place the baking dish inside the preheated oven and bake everything for about 30 minutes or until done.
Remove from the oven and allow it to rest for a few minutes at room temperature.
Serve warm and enjoy!
Notes
Nutrition Facts:
Amount Per Serving: CALORIES: 492 | TOTAL FAT: 26g | SATURATED FAT: 14g | TRANS FAT: 1g | UNSATURATED FAT: 9g | CHOLESTEROL: 165mg | SODIUM: 960mg | CARBOHYDRATES: 15g | FIBER: 1g | SUGAR: 6g | PROTEIN: 49g
Prep Time:

10 MINS

Cook Time:

50 minutes

Category:

Dinner, Lunch,

Cuisine:

American