Experience the rich and comforting flavors of French cuisine with a delightful French Onion Tart. This savory tart showcases the iconic combination of caramelized onions, Gruyère cheese, and a buttery crust, resulting in a dish that is both sophisticated and satisfying. Whether you're hosting a dinner party or simply craving a taste of France, this recipe is sure to impress. Join us as we explore the recipe, step-by-step instructions, and answer some commonly asked questions to help you create a culinary masterpiece in your own kitchen.
FAQ – Frequently Asked Questions:
Q: Can I use a different type of cheese? A: Absolutely! While Gruyère cheese adds a delicious nutty flavor, you can experiment with other types of cheese such as Swiss, Emmental, or even a combination of cheeses to suit your taste preferences.
Q: Can I make the tart in advance? A: Yes, you can prepare the tart in advance. Once baked, allow it to cool completely, then cover and refrigerate. To serve, reheat in a preheated oven at 350°F (175°C) for about 10-15 minutes or until warmed through.
Q: Can I use store-bought caramelized onions instead of making them from scratch? A: Absolutely! If you're short on time, you can use store-bought caramelized onions to save time and effort. Just make sure to drain any excess liquid before spreading them onto the puff pastry.
Q: Can I freeze the French Onion Tart? A: Yes, you can freeze the unbaked tart for later use. Wrap it tightly in plastic wrap and aluminum foil, then freeze. When ready to bake, thaw the tart in the refrigerator overnight, then follow the baking instructions as usual.
Prep Time: 30 mins | Cook Time: 40 mins | Total Time: 1 hr 10 mins | Rest Time: 1 hr | Yield: 8 Servings
Print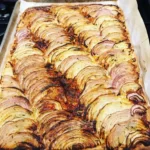 FRENCH ONION TART
---
Description
This French Onion Tart is a must-try! The sweet taste of the onions is just too perfect! Everything about this tart is simply the best!
---
Pastry:
12 tablespoon cold unsalted butter, diced (1 ½ sticks)
½ c ice water
1 tablespoon sugar
½ teaspoon kosher salt
2 c all-purpose flour
Onion Topping:
1 ¼ pounds sweet onions, (about 3 medium onions)
3 tablespoons unsalted butter, diced
1 tablespoon heavy cream
2 teaspoons fresh chives, minced
1 teaspoon kosher salt
1 ½ teaspoon fresh thyme, minced
1 c gruyere cheese, shredded (4 ounces)
---
Instructions
For the Pastry:
In a food processor, add sugar, flour, and salt. Pulse until well blended.
Add butter, then pulse again about 10 times until processed.
Add ice water, then pulse continuously until the mixture turns into a dough.
Sprinkle flour onto a flat surface, then place the dough on it. Knead the dough until it forms into a ball.
Wrap the dough with plastic, then place it inside the fridge to chill for about an hour.
For the Tart:
Prepare the oven and preheat to 200 degrees C or 400 degrees F.
Line parchment paper onto a sheet pan.
Sprinkle flour over two sheets of wax paper, then roll the dough in between. Trim the sides and put the dough onto the sheet pan. Place it inside the fridge.
Sprinkle cheese on the sides of the pastry together with chives and thyme.
Turn the onions into thin slices in half-moons. Arrange the half-moons diagonally on the pastry. Brush them with cream.
Add butter and salt on top.
Place it inside the preheated oven and bake for about 40 minutes or until the top turns golden brown.
Remove from the oven and allow it to cool for a few minutes.
Slice into even squares.
Serve and enjoy!
Notes
Nutrition Facts:
Calories 345 | Calories from Fat 198 | Fat 22g34% | Saturated Fat 14g88% | Cholesterol 59mg20% | Sodium 443mg19% | Potassium 142mg4% | Carbohydrates 32g11% | Fiber 2g8% | Sugar 4g4% | Protein 4g8% | Vitamin A 710IU14% | Vitamin C 5.6mg7% | Calcium 27mg3% | Iron 1.6mg9%