Perfectly spiced and incredibly easy to make, these oatmeal cookies guarantee deliciousness. They are fluffy and thick, ensuring that they fill you up easily. In time, these will be your favourite cookies.
Oatmeal cookies are a personal favorite of mine when it comes to cookies. It's almost difficult to resist biting into one because there's something so satisfying about it. I've seen many variations of oat meal cookies and I must say, these apple oatmeal cookies are just sublime.
These cookies are not only simple to prepare, but they also taste fantastic. You can make the dough ahead of time and freeze it for when you're ready to bake the cookies. You can tweak this in many ways and the result will still be a fantastically tasting cookie that everyone loves.
These cookies are spiced perfectly, and the interplay between diced apples and oatmeal just makes the flavour wonderful. One extra point for these cookies is how thick they form, and fluffy too. Having one cookie will probably fill you up faster than you think. This should be on your recipe bucket list. It's a perfect breakfast option.
Tips and variation:
•You can store in an airtight container for about 2-3 days.
•You can replace nutmeg with ¼ teaspoon f ground cinnamon.
•It is best that your eggs are in room temperature before using them.
•You can also use any type of baking apples for this recipe.
Prep Time: 25 minutes
Cook Time: 15 minutes
Total Time: 40 minutes
Servings: 24 cookies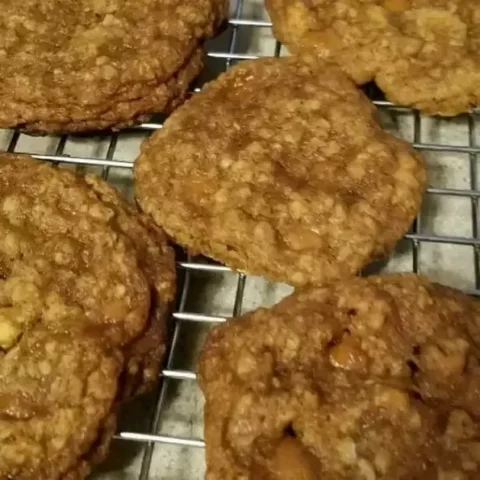 FRESH APPLE OATMEAL COOKIES
Ingredients
1 cup all-purpose flour
1 teaspoon ground cinnamon
¼ teaspoon ground nutmeg
½ teaspoon baking soda
¼ teaspoon salt
1 and ¾ cups old-fashioned rolled oats
½ cup unsalted butter softened
½ cup light brown sugar packed
¼ cup granulated sugar
1 large egg at room temperature
1 teaspoon pure vanilla extract
1 cup chopped apple
Instructions
Step 1: Preheat the oven to 350 degree Fahrenheit, then line two large baking sheets with parchment paper. Pour the flour, cinnamon, nutmeg, baking soda, and salt in a large mixing bowl, mix until it is combined, and stir in the old-fashioned rolled oats. Leave it aside.
Step 2: Beat the butter, brown sugar, and granulated sugar together using a mixer for 1 to 2 minutes or until it is well combined. Then mix in the egg and vanilla extract, add the dry ingredients to the wet ingredients, mix until just combined. Fold in the chopped apple gently until it is well infused into the cookie dough.
Step 3: Scoop balls of the cookie dough into the prepared baking sheets using a tablespoon coking scoop. Then allow to bake for about 12 to 15 minutes or until the tops of the cookies are done.
Step 4: Remove from the heat and allow to cool t for 5 to 10 minutes, before transferring to the wire rack to cool completely. Serve!
Nutrition Information:
Amount Per Serving:
Calories:

0
Total Fat:

0g
Saturated Fat:

0g
Trans Fat:

0g
Unsaturated Fat:

0g
Cholesterol:

0mg
Sodium:

0mg
Carbohydrates:

0g
Fiber:

0g
Sugar:

0g
Protein:

0g