funnel cake. The moment that irresistible aroma of freshly deep-fried cake wafts through the air, it's like we're transported back to those cherished weekends of our childhood, spent at the local fair. The allure of those warm, golden disks of dough, perfectly adorned with a dusting of powdered sugar, is simply irresistible.
Now, if the state fair isn't on your itinerary this year, worry not. Our Test Kitchen has concocted a recipe that brings the fair to your very own kitchen, with a delightful twist. They've taken the joy of funnel cake and transformed it into adorable bite-size versions. It's all about infusing a dash of fun into your culinary adventures. These mini treats can grace your dessert table at parties or serve as delightful afternoon nibbles for the little ones, or for those who are young at heart.
Now, what exactly is funnel cake, you might ask?
This classic fair and amusement park delicacy involves pouring batter, often through a funnel, in a captivating circular dance into hot oil. The result? That lusciously fried dough, generously adorned with powdered sugar, ready to delight your taste buds. And here's the kicker – these treats can take on a whole new personality with embellishments such as fruit, chocolate, whipped cream, and more.
Interestingly, versions of fried dough are savored across the globe, but it's the Pennsylvania Dutch, those German immigrants who settled in Pennsylvania centuries ago, who are credited with introducing this delightful dish to America.
Now, brace yourself for the magic of serving these Funnel Cake Bites. You don't have to wait for the fair's return to relish these miniature wonders. Serve them fresh and piping hot from the fryer, alongside lemonade, iced tea, or even cocktails. Alternatively, embrace the summertime spirit by topping them with ice cream, a swirl of whipped cream, fresh fruit, luscious maple syrup, or any other toppings that your heart desires. It's the ultimate summertime dessert experience, right at your fingertips.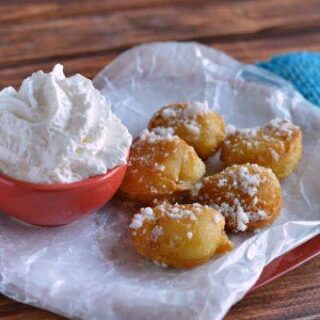 FUNNEL CAKE BITES
Ingredients
2 cups of milk
1 egg
2 teaspoons of vanilla
2 cups of flour
pinch of salt
1 teaspoon of baking soda
2 tablespoons of sugar
6 table spoons of butter- Melted
Instructions
In a medium size bowl mix your milk, egg, vanilla, and butter together.
Then add in your salt, baking soda, and sugar.
Slowly fold in flour until batter becomes smooth.
Pour your batter mixture into a gallon size Ziplock baggy and set aside for a few minutes.
Pour vegetable oil into a frying pan until your oil is about a half inch deep.
Turn burner on high heat for about two minutes and then turn down to medium heat.
Check your oil by dropping a small drop of batter into oi. If it begins to show bubbles around the edges then it is ready. If not than turn it up a bit again until it is good and hot.
Take scissors and cut a small hole into the bottom corner of the baggie. Slowly drizzle batter into 1 to 2 circles and cook until golden brown on the bottom half.
Gently flip them over with a slotted metal spatula and cook again until the bottom half is golden brown.
Place on paper towels to soak up most of the grease and sprinkle with powdered sugar.
Serve with whip cream or fruit to top them off with.
Nutrition Information:
Amount Per Serving:
Calories:

0
Total Fat:

0g
Saturated Fat:

0g
Trans Fat:

0g
Unsaturated Fat:

0g
Cholesterol:

0mg
Sodium:

0mg
Carbohydrates:

0g
Fiber:

0g
Sugar:

0g
Protein:

0g