Prepare to tantalize your taste buds with the mouthwatering flavors of Garlic Butter Steak and Potatoes Skillet. This recipe combines tender, juicy steak with perfectly seasoned potatoes, all cooked together in a single skillet. The aroma of garlic and herbs will fill your kitchen, making it an irresistible dish for any meat and potato lover. Join us as we delve into the recipe, step-by-step instructions, and address some frequently asked questions to help you master this delightful skillet meal.
Prep time: 10 mins | Cook time: 10 mins | Total time: 20 mins | Serves: 4
Print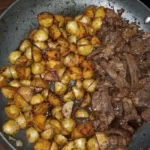 GARLIC BUTTER STEAK AND POTATOES SKILLET
---
1 ½ lbs sirloin steak, cut into 1" cubes
4 garlic cloves, minced
1 tbsp olive oil
1 lb. Yukon Gold potatoes, diced into ½" cubes
1 tsp dried oregano
1 tsp dried rosemary
4 tbsp butter, divided
Freshly chopped parsley for garnish optional
½ tsp salt
½ tsp pepper
---
Instructions
Step 1: Into a hot cast-iron skillet, heat the olive oil and 2 tbsp butter over medium-high heat.
Step 2: Once the butter has melted, add the potatoes, garlic, rosemary, oregano, salt, and pepper. Cook for about 4 minutes without stirring. Stir after 4 minutes and continue to cook for another 3 to 4 minutes or until tender. In a bowl, transfer the potatoes and set aside.
Step 3: Place the skillet back on the stove and adjust the heat to high. Add 2 tbsp butter. Once melted, add the steak bits in one layer and cook for about a minute. Flip and steak, stir, and cook for 1 to 2 minutes more or until done to your desired doneness.
Step 4: Take the skillet off the heat and return the potatoes to the skillet. Toss well. If desired, season with more salt and pepper.
Step 5: Before serving, garnish with some fresh chopped parsley (optional). Enjoy!
Notes
Tips:
For this recipe, you are welcome to use other kinds of meats such as beef tenderloin, New york strip steak, or stir fry meat.
If desired, you can use red-skinned and fingerling potatoes in place of Yukon gold. I do not recommend using Russet potatoes.
Nutrition Facts:
Calories: 455 kcal (23%), Carbohydrates: 21g (7%), Protein: 40g (80%), Fat: 23g (35%), Saturated Fat: 11g (69%), Cholesterol: 134mg (45%), Sodium: 495 mg (22%), Potassium: 1071mg (31%), Fiber: 3g (13%), Sugar: 1g (1%)
FAQ – Frequently Asked Questions:
Q: Can I use a different cut of steak for this recipe?
A: Absolutely! While ribeye, sirloin, or striploin are popular choices for this recipe, you can use other cuts of steak as well. Just ensure that the steak is tender and suitable for quick cooking in a skillet.
Q: Can I add other vegetables to the skillet?
A: Certainly! If you want to incorporate more veggies into the dish, feel free to add some bell peppers, onions, or mushrooms along with the potatoes. Sauté them together for added flavor and variety.
Q: Can I marinate the steak beforehand?
A: While marinating the steak is optional, it can add an extra layer of flavor. If you prefer marinated steak, prepare a simple marinade using ingredients like soy sauce, Worcestershire sauce, garlic, and herbs. Marinate the steak for at least 30 minutes or up to overnight before cooking.
Q: Can I make this recipe ahead of time?
A: This dish is best enjoyed fresh to savor the flavors and textures. However, you can pre-cut the steak and dice the potatoes in advance to save time. Keep them refrigerated separately until you're ready to cook. Cook the dish just before serving for the best results.