Garlic Steak & Potato Foil Packets. This hassle-free recipe promises a symphony of flavors and a hearty, satisfying meal that's easy to prepare and even easier to devour. Perfect for a cozy family dinner or a delightful backyard barbecue, these foil packets transform simple ingredients into a culinary masterpiece.
Why You'll Love This Recipe:
These foil packets offer the ultimate convenience and flavor. The marinated sirloin steak chunks, infused with minced garlic, Italian seasoning, and a touch of onion powder, harmonize beautifully with the baby yellow potatoes. As the packets bake, the savory aroma fills the air, promising a delectable meal that delights both the senses and the taste buds. This recipe not only ensures a delicious dining experience but also simplifies cleanup, making it a win-win for busy cooks.
Recipe Tips and Variations:
Steak Cuts: While sirloin steak is the primary choice, you can explore other cuts such as ribeye or New York strip for varying textures and flavors.
Potato Varieties: Feel free to experiment with different potato varieties, such as red potatoes or fingerling potatoes, to add color and visual appeal to the dish.
Additional Vegetables: Enhance the nutritional profile and visual appeal by incorporating vegetables like bell peppers, zucchini, or cherry tomatoes into the foil packets.
Grill Option: These foil packets are versatile and can be cooked on the grill. Ensure the grill is preheated to medium-high heat, and cook the packets for approximately 20-25 minutes or until the steak reaches your desired level of doneness.
Why These Foil Packets Stand Out:
Marinated Perfection: The combination of minced garlic, Italian seasoning, and onion powder creates a marinade that infuses the steak and potatoes with a rich, aromatic flavor profile.
Even Cooking: The foil packets ensure even cooking, allowing the ingredients to tenderize and soak in the flavors, resulting in perfectly cooked steak and potatoes.
Minimal Cleanup: The foil packets not only lock in the flavors but also simplify cleanup, making this recipe an excellent choice for both busy weeknights and leisurely gatherings.
What to Serve With These Foil Packets:
Pair these Garlic Steak & Potato Foil Packets with a crisp garden salad, a medley of roasted vegetables, or a side of buttered corn on the cob. For a heartier meal, serve them alongside garlic butter rice or creamy mashed potatoes. A drizzle of chimichurri sauce or a sprinkle of fresh parsley adds a burst of freshness and elevates the presentation.
Cooking Options:
Grilling: If you're using a grill, place the foil packets over high heat for approximately 10 minutes on each side. Keep a close watch to achieve your preferred level of doneness for both the steak and potatoes.
Oven: If you're opting for baking, position the foil packets on a baking sheet and place them in the preheated oven. Allow them to bake for about 20 minutes or until the steak and potatoes reach the desired level of tenderness.
Serve with Style: Once your foil packets are cooked to perfection, carefully open them (watch out for the steam!). For an extra zesty touch, garnish with fresh parsley. You can serve the dish directly from the foil or plate it up for a visually appealing presentation.
Followers Questions:
Can I use a different cut of steak for this recipe?
Absolutely! While lean sirloin steak is recommended for its tenderness and flavor, you can experiment with other cuts that suit your preferences.
How can I ensure the foil packets are sealed properly?
When creating the foil packets, make sure to fold and seal the edges tightly to prevent any leakage during cooking. This ensures that the flavors remain locked in.
Is it necessary to marinate the steak and potatoes?
Marinating the ingredients allows the flavors to penetrate the steak and potatoes, enhancing the overall taste. However, if you're short on time, you can still achieve delicious results by tossing the ingredients with the seasonings just before cooking.
Can I add other vegetables to the foil packets?
Absolutely! Feel free to customize the recipe by adding your favorite vegetables like bell peppers, onions, or mushrooms. Just be mindful of the cooking times to ensure everything is cooked evenly.
Can I prepare these foil packets in advance?
While it's best to cook the foil packets shortly after preparing them to ensure the freshest flavors, you can definitely prepare the ingredients in advance and assemble the packets right before cooking.
Can I bake these packets in the microwave?
Baking in the oven or grilling on high heat is recommended to achieve the desired texture and flavor profile. Microwaving may result in uneven cooking and a different texture.
Remember it later
Like this recipe! Pin it to your favorite board NOW!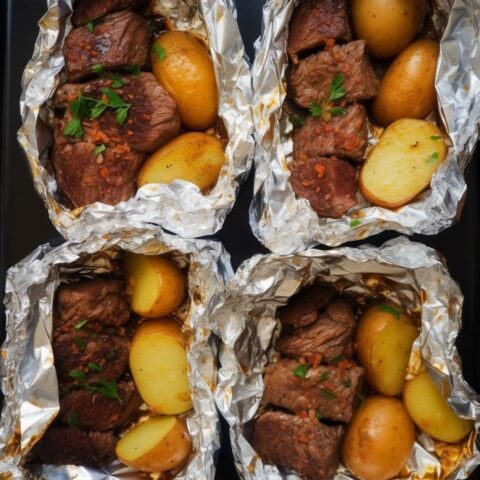 GARLIC STEAK & POTATO FOIL PACKETS
Ingredients
For the Foil Packets:
2 pounds lean sirloin steak, trimmed and cut into 2-inch chunks
1 pound baby yellow potatoes, quartered or halved to your liking
1 tablespoon minced garlic (adjust to taste)
2 teaspoons Italian seasoning (or a mix of dried oregano, thyme, and parsley)
1 teaspoon onion powder
3 tablespoons olive oil
Salt and freshly ground pepper, to taste
Instructions
Preparation and Preheating:
If baking in the oven, preheat it to 425°F (220°C) to ensure consistent cooking.
Mixing and Marinating:
In a generously-sized mixing bowl, combine the sirloin steak chunks, baby yellow potatoes, minced garlic, Italian seasoning, onion powder, olive oil, salt, and freshly ground pepper. Gently toss until all ingredients are well-coated with the flavorful seasonings.
Assembling the Foil Packets:
Divide the steak and potato mixture evenly among four 12×12 inch aluminum foil sheets.
Carefully seal the foil packets to create secure enclosures, trapping the flavors inside.
Baking or Grilling:
Baking: Place the sealed foil packets on a baking sheet and bake in the preheated oven for 25-30 minutes or until the steak reaches the desired level of doneness and the potatoes are tender.
Grilling: Preheat the grill to medium-high heat. Place the foil packets directly on the grill grates and cook for approximately 20-25 minutes, checking for doneness as needed.
Serving and Enjoying:
Carefully open the foil packets to release the aromatic steam and reveal the delectable contents.
Serve the Garlic Steak & Potato Foil Packets hot, garnished with a sprinkle of fresh parsley or a drizzle of chimichurri sauce, if desired.
Notes
These Garlic Steak & Potato Foil Packets offer a delightful blend of flavors, ensuring a satisfying meal that's both delicious and convenient. Whether enjoyed indoors on a cozy evening or outdoors at a lively barbecue, these foil packets promise a memorable dining experience. With each bite, savor the tenderness of the steak, the earthiness of the potatoes, and the aromatic essence of garlic and Italian seasoning, making this dish a perennial favorite in your culinary repertoire.
Nutrition Information:
Amount Per Serving:
Calories:

0
Total Fat:

0g
Saturated Fat:

0g
Trans Fat:

0g
Unsaturated Fat:

0g
Cholesterol:

0mg
Sodium:

0mg
Carbohydrates:

0g
Fiber:

0g
Sugar:

0g
Protein:

0g
Remember it later
Like this recipe! Pin it to your favorite board NOW!