Living in the south, I learned early that it is an unspoken rule that macaroni and cheese is always to be present at holiday meals. Later, I was advised of another unspoken rule – one which I have heard on several occasions – that "only the best baked mac and cheese recipe graces the holiday table…and prayers to you if you even think about messing it up…" Baked mac and cheese is taken very seriously in the South which as silly as that sounds, is a bit terrifying when your past attempts were inedible! I also made the mistake of getting looped into the argument of whether mac and cheese can be a main entrée or can it only be a side dish!
A friend shared with me her family recipe which I enjoyed once when she made it for a get-together. She convinced me that if she could do it, so could I. After considering that this might be my last hope to prove myself before I became the boxed macaroni and cheese queen, I told her I was going to succeed this time.
She was my charm and I succeeded. It was beautiful and tasted glorious. It wasn't dry as desert, or a sloppy liquid mess, or a pan of glue!
You will love how delicious and comforting this is and the compliments will be flowing.
Notes:
• Make sure you pull the pasta 1-2 minutes before al dente, so they do not overcook and get mushy.
• My kids love crushed Ritz crackers mixed with some melted butter sprinkled on top. You can add this with the cheese before baking or instead of the cheese.
• It is suggested that you get block cheese and shred the cheese yourself instead of buying pre-shredded cheese. Personally, I have never had a problem with texture when using pre-shredded and I have used it every time. With that, if you want to have more peace of mind, and have a way to shred the cheese yourself, then get the block cheese. It is completely up to you!
Print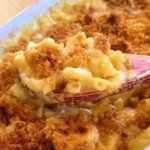 Good Old-Fashioned Mac and Cheese
---
8 to 10 ounces elbow macaroni
1/2 cup (1 stick) butter, melted
1/2 cup whole milk
1 (12-ounce) can evaporated milk
2 eggs, lightly beaten
2 tsp. dry mustard
1/2 tsp. Tabasco (or your preferred hot sauce)
1/2 tsp. black pepper
1/2 tsp. salt or to taste
2 Tbsps. sour cream
1/2 lb. shredded Velveeta (If you have the block, cut into very small chunks)
1 cup shredded Colby-Jack cheese or 4 ounces Colby and 4 ounces Monterey Jack
1/2 cup shredded sharp cheddar cheese
1 cup shredded mild cheddar cheese
---
Instructions
Preheat oven to 350ºF.
Butter a 9×13 baking dish. Set aside.
Mix all the cheeses together in a bowl (If Velveeta is in chunks, the smaller the better for it to melt.) – you can set some cheddar aside to top the mac and cheese if you would like.
Bring large pot of water to boil and then salt generously. Cook macaroni just shy of package directions for al dente – a couple minutes earlier.
Drain well, rinse with cool water, and place pasta back in the large pot. Pour the melted butter over the pasta and stir until all the pasta is covered with the butter.
In a medium bowl, whisk together the whole milk, evaporated milk, sour cream, eggs, salt, pepper, dry mustard, and Tabasco until combined. Pour mixture over cooked macaroni in the pot. Stir gently to coat.
Add half of the cheese mix to the pasta in the pot. Stir over medium-low/medium heat until cheese is melted. Add the other half of the cheese mix and stir until thoroughly melted.
Remove from heat, pour the mac and cheese mixture into prepared 9×13 baking dish. Add the cheese on top if desired.
Bake for 35 to 40 minutes until bubbly and lightly browned on top. Let rest 10 minutes or so before serving. Enjoy!