This cheesy, creamy ham and potato casserole is very amazing! Make this delicious ham and potato dish for the whole family at any time. It's a delicious post-holiday meal that also doubles as a filling breakfast!
Casseroles are one of my favorite types of recipes since they're so simple to prepare and always taste great. This ham and potato casserole is cheesy and delicious, and the whole family will like it.
This ham and cheese potato casserole dish is one of my favorites since it can be made and served at any time. There is no such thing as a terrible time of day or year. It's also ideal for feeding a large family or each time you have visitors to feed.
If you have any leftover ham after the holidays, this cheesy casserole is a terrific way to use it up!
The taste is just perfect and your kids wil always request for this.
Total Cooking Time: 60 minutes
Servings: 4
Tips:
•When making this dish, ensure to use cooked ham. You could also use leftover ham or precooked ham and it'll turn out just fine.
•If there are any leftovers, store in the refrigerator for up to 4 days. To reheat, place in a microwave safe dish and allow to heat at 50% power for about 2 minutes. Ensure to stir at least once during the heating process.
Print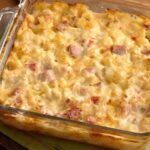 HAM AND POTATO CASSEROLE
---
6 small potatoes, peeled and cubed
3 tablespoons butter
2 cups cubed fully cooked ham
1 small onion, finely chopped
¼ cup butter
3 tablespoons all-purpose flour
1 ½ cups milk
Salt and ground black pepper to taste
1 (8 ounce) package shredded Cheddar cheese
¼ cup bread crumbs
---
Instructions
Step 1:
Place potatoes into a large pot and cover with salted water; bring to a boil. Reduce heat to medium-low and simmer until tender, about 20 minutes. Drain.
Step 2:
Preheat oven to 350 degrees F (175 degrees C). Grease a 11/2-quart baking dish and set it aside.
Step 3:
Melt 3 tablespoons butter in a skillet over medium heat. Stir in the ham and onion; cook and stir until the onion has softened and turned translucent, about 5 minutes.
Step 5:
Stir potatoes into ham mixture; and transfer to the prepared baking dish.
Step 6:
Melt ¼ cup butter in a saucepan over medium heat. Stir flour into melted butter until smooth.
Step 7:
Gradually whisk milk into flour mixture; season with salt and black pepper. Continue cooking and stirring until thickened, about 2 minutes.
Reduce heat to medium-low and stir Cheddar cheese into the white sauce until melted.
Step 8:
Pour sauce over ham and potatoes. Sprinkle bread crumbs atop casserole and then bake in the preheated oven until sauce is bubbly and browned – this should take about 30 minutes. Serve while hot.
Notes
Nutritional information:
Per Serving:
578 calories; protein 24.3g; carbohydrates 40.3g; fat 35.8g; cholesterol 104.9mg; sodium 973.7mg.