Hamburger Casserole. It's a classic American main course that requires just 10 minutes of prep time and 35 minutes of cooking time.
Now, I'm sure you've come across various hamburger recipes cooked on the stovetop. But have you ever tried making hamburger casserole at home? Trust me, the homemade version is just as easy and will fill your kitchen with incredible aromas as it bakes in the oven.
If you're not up for the task of making it from scratch, no worries! You can always enjoy it at your favorite restaurant. However, let me tell you, this simple and delicious dish is worth giving a try in your own kitchen. In fact, I recommend making a double batch because you'll be thrilled to have leftovers.
And here's a little secret: serving hamburger casserole with bread and a dollop of sour cream takes it to a whole new level of deliciousness. Trust me, you'll wonder why you ever ate hamburger any other way!
This recipe is perfect for those nights when you don't feel like spending too much time in the kitchen. It's easy, it's delicious, and you can even pair it with a side of bread and a salad to make it a satisfying entree or snack. Now, I'm not typically one for baking, but this recipe is definitely an exception that you don't want to miss out on!
Enjoy your culinary adventure, and as always, happy cooking!
Print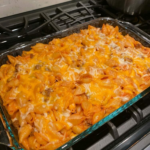 HAMBURGER CASSEROLE
---
Ground beef – 1 lb
Cream of mushroom soup – 1 can
Tomato soup – 1 can
Whole kernel corn drained – 1 can
Chilli powder – 2 tsp
Onion – 1
Macaroni noodles cooked and drained – 1 ½ can
Cheddar Cheese
Salt
Pepper
---
Instructions
To make hamburger casserole, you will need a microwave oven. Preheat it to 350 degrees Fahrenheit.

In a cooking pan, cook macaroni as told on the package.

In a separate cooking pan, add some oil and heat it. Now add ground beef and onion. Cook them until beef turns brown. Now, add chilli powder and a pinch of salt. Also, add black pepper as per the taste.

Take the can of mushroom cream soup and kernel corn. Empty them in the cooked hamburger. Now, in this mixture, add macaroni and mix it properly.

Mix the cream soups and corn, add to cooked hamburger. Add macaroni, and mix it thoroughly.