Prep Time: 5 mins | Cook Time: 10 mins | Total Time: 15 mins | Yield: 4 Servings
Whether you like tomatoes or not, this recipe will suit you just fine! These Healthy Taco Stuffed Tomatoes are incredibly delicious! I suggest you use fresh tomatoes for this recipe for the best result! These tomatoes are loaded with ground beef, shredded cheese, browned onions, and lettuce! You won't be needing anything else! This recipe is ready in just 15 minutes. With very easy steps, you will surely enjoy preparing these delicious treats! My kids love these stuffed tomatoes. I'm sure yours will too! That's the best thing about these treats. They are super healthy and very appetizing that even picky eaters will crave them constantly! Try this recipe now, and prepare to fall in love. Enjoy!
Print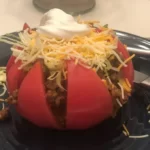 HEALTHY TACO STUFFED TOMATOES
---
1 pound of ground beef
Fiesta Mexican blend Shredded Cheese
Onions, diced
Shredded Lettuce
4 tomatoes
Sour Cream
1 packet Taco Seasoning
Taco sauce for dipping
---
Instructions
Make an "X" slice over each tomato, then slowly separate them from each other but not all the way through.
Place a skillet on the stove and turn the heat to medium.
Add the ground beef, then cook for a few minutes until crumbly and brown.
Add taco seasoning over the ground beef, then stir until well blended.
Fill each prepared tomato with lettuce, taco meat, onion, and a generous amount of shredded cheese. Repeat this process with the rest of the ingredients.
Add sour over each serving.
Serve right away. Enjoy!
Notes
You can make the filling the night before. Reheat it in the microwave for a few minutes, then serve with the tomato slices!
Place any leftovers in an airtight container, then place them inside the fridge.
Nutrition Facts:
Calories: 326 kcal Carbohydrates: 9g Protein: 20g Fat: 22g Cholesterol: 80mg Sodium: 788mg Potassium: 597mg