It is no secret that I love holiday baking. The glorious smell that fills the house, the bonding with family while we bake all sorts of sweets, and then packing up an assortment to give to others is something I look forward to as the season approaches.
I begin planning for all the baking early and I always one or two new types of cookies to the ones that are tradition. My mom taught me how to bake when I was young, and I have fond memories. I have kept the tradition and passed it along to my children.
This recipe became a part of my traditional cookies after I stumbled across it years ago. First, I love shortbread cookies in their buttery pureness. Second, I was captivated by the colors this cookie has and once I tried them, I was hooked. A buttery shortbread with the addition of cherries and chocolate make a glorious combination that is loved by all. I think if you try these once, you too will add it to your holiday cookie assortment!
Notes:
• Due to the high butter content, having the dough well chilled is important for the cookies to hold their shape. After cutting the slices, you can place the baking tray in the freezer for 5-10 minutes, so they are nice and cold before baking.
• You can freeze the dough after preparation. When you have formed the dough log, wrap it with cling film and place in a freezer bag. Store in freezer for 3-4 months. No need to defrost at all before baking – just cut the dough into slices and bake immediately.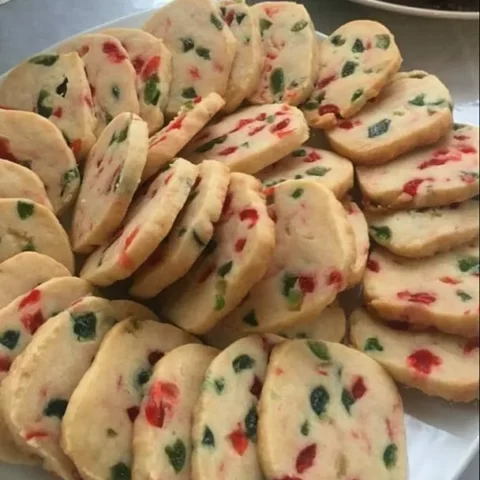 Holiday Maraschino Cherry Shortbread Cookies
Ingredients
2 cups all-purpose flour 1/2 tsp. salt 1 cup unsalted butter, room temperature
1/2 cup powdered sugar 1/2 Tbsp. vanilla extract
3/4 cup maraschino cherries-chopped – it is important to spread cherries on paper towel after chopping to get all the extra liquid out or you can use dried maraschino cherries 2/3 cup chocolate chips (mini or regular)
Instructions
Chop cherries and place on paper towel and cover with paper towel to remove extra liquid.
In a mixing bowl, combine flour and salt, set aside.
In a larger mixing bowl, or stand mixer, cream together 1 cup unsalted the softened butter with 1/2 cup powdered sugar. Mix in the vanilla.
Add flour with salt mixture and mix on low until larger clumps begin forming.
Using a rubber spatula or a wooden spoon, gently stir in chocolate chips and maraschino cherries.
Form the dough into a log and press it together well or it will crumble when you slice the cookies (the log should be about 2 inches thick) Wrap it in the plastic wrap and chill in the fridge for at least 1-2 hour.
After chilling the dough, preheat the oven to 325°F and line a baking sheet with parchment paper.
Unwrap the chilled log and cut slices 1/4 or 1/3 inch thick – if the slices crumble, press it back together with your hands. Place the slices onto the baking sheet with one inch of space between.
Bake the cookies 18-20 minutes and rotate the pan after 10 minutes. They will turn golden on the bottom and the top will be set.
Let them cool for 10 minutes on a baking sheet before carefully transferring them to a rack to cool completely.
Nutrition Information:
Amount Per Serving:
Calories:

0
Total Fat:

0g
Saturated Fat:

0g
Trans Fat:

0g
Unsaturated Fat:

0g
Cholesterol:

0mg
Sodium:

0mg
Carbohydrates:

0g
Fiber:

0g
Sugar:

0g
Protein:

0g