Shepherd's Pie, a beloved British classic, boasts a base layer of ground lamb or mutton mingled with vegetables, crowned by a blanket of creamy mashed potatoes, and then expertly baked. This gratifying, soul-warming dish is tailor-made for colder climes. The ultimate Shepherd's Pie is an amalgamation of superior ingredients, deftly harmonizing the umami-rich meat and veggies with the lush mashed potatoes. A well-crafted recipe also entails a crisped top crust, rendering it both a comfort food par excellence and a clever utilization of leftovers.
SHEPHERD'S PIE INGREDIENTS:
MASHED POTATOES: Yukon Gold Potatoes, Low-Sodium Chicken Stock, Low Fat Sour Cream, Salt, Ground Black Pepper, Paprika
GROUND BEEF: For a traditional rendition, lean ground beef is a suitable alternative to ground lamb.
PEAS AND CORN: Embrace these verdant gems; don't hesitate to include carrots as well.
VEGGIES: Onions, Celery, Mushrooms, and an assortment of frozen mixed vegetables like peas, carrots, and green beans.
GARLIC: Mince two cloves of garlic.
FLOUR: To craft a gluten-free iteration, swap all-purpose flour with its gluten-free counterpart.
GRAVY: One cup of fat-free beef broth is essential.
HERBS: Finely chop fresh rosemary and thyme; dried variants can be used as well.
SALT AND PEPPER
WORCESTERSHIRE SAUCE: The enigmatic element lending Shepherd's Pie its distinctive zest.
TOMATO PASTE: Integral for augmenting the sauce's depth.
HOW TO CRAFT SHEPHERD'S PIE:
In a skillet, sauté diced onions in olive oil.
Add your choice of ground meat (beef or lamb).
Infuse dried parsley, thyme, rosemary, salt, and pepper.
Stir and cook the meat until it browns.
Integrate minced garlic and Worcestershire sauce.
Allow the garlic to sauté for one minute.
Blend in flour and tomato paste.
Combine beef broth, peas, carrots, corn, and mushrooms.
Simmer the meaty gravy until it thickens.
Boil and soften peeled potatoes.
Drain the potatoes after boiling.
Integrate butter, half & half, parmesan cheese, garlic powder, salt, and pepper.
Thoroughly mash the potatoes.
Transfer the meat mixture to a casserole dish.
Layer the mashed potatoes over it.
Bake in the oven until the meat bubbles and potatoes attain a golden hue.
WHAT'S NECESSARY TO CREATE SHEPHERD'S PIE:
Olive oil: Sunflower or vegetable oil can serve as alternatives.
Onion: Fresh or frozen onions work seamlessly.
Carrots: Finely chop these root veggies.
Celery: Adds delightful depth to the flavor profile.
Minced Lamb: Opt for lean varieties when possible.
Plain flour: Substitute for corn flour for a gluten-free version.
Dried thyme: Fresh thyme is an acceptable alternative.
Dried sage: Fresh sage can be used as well.
Beef stock: Cube-derived beef stock is adequate.
Tomato puree: Opt for high-quality variants.
Worcestershire sauce: Or experiment with Henderson's Relish.
Salt and Pepper: Generous seasoning enhances the dish.
White potatoes: Fluffy-textured options like King Edward or Maris Piper work well.
BUTTER: Salted butter complements the dish.
SHEPHERD'S PIE VARIATIONS:
The versatility of Shepherd's Pie allows for personalized adaptations, catering to individual tastes and
preferences. Various renditions abound:
Experiment with meats like minced chicken, turkey, or pork for unique flavors.
Swap conventional mashed potatoes with sweet potatoes.
Sub in mashed cauliflower for a lower-carb alternative.
Craft a vegetarian version with lentils and mushrooms.
Embrace creativity by utilizing surplus vegetables.
Elevate the Irish influence by substituting Guinness for red wine in the beef stock.
Embark on a gastronomic journey: Elevate your culinary prowess with meticulously chosen high-quality ingredients. Expand your culinary repertoire, savor extraordinary flavors, and create unforgettable dishes.
Print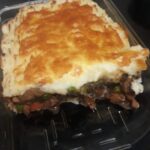 HOMEMADE SHEPHERD'S PIE
---
Author:

Total Time:

1 hour 10 minutes
MEAT FILLING:
2

 

tablespoons

 

olive oil

1

 

cup

 

chopped yellow onion

1

 

lb

 

90% lean ground beef -or ground lamb

2

 

teaspoons

 

dried parsley leaves

1

 

teaspoons

 

dried rosemary leaves

1

 

teaspoons

 

dried thyme leaves

½

 

teaspoons

 

salt

½

 

teaspoons

 

ground black pepper

1

 

tablespoon

 

Worcestershire sauce

2

 

garlic

 

cloves -minced

2

 

tablespoons

 

all purpose flour

2

 

tablespoons

 

tomato paste

1

 

cup

 

beef broth

1

 

cup

 

frozen mixed peas & carrots

½

 

cup

 

frozen corn kernels
POTATO TOPPING:
2

 

lb

 

russet potatoes

8

 

tablespoons

 

unsalted butter -1 stick

⅓

 

cup

 

half & half

½

 

teaspoon

 

garlic powder

½

 

teaspoon

 

salt

¼

 

teaspoon

 

ground black pepper

¼

 

cup

 

parmesan cheese
---
Instructions
MAKE THE MEAT FILLING
In a large frying pan drizzle in the oil then heat over medium-high heat for 2 minutes. Cook onions for 5 minutes, stirring occasionally.

Mix in the pan of ground beef or lamb using a wooden spoon to break it up. Incorporate parsley, rosemary, thyme, salt, and pepper into the mixture. Stir occasionally and cook for 6-8 minutes until the meat is browned.

Add in Worcestershire sauce and garlic, continue cooking for another minute.

Stir in flour and tomato paste, making sure no clumps remain.

Mix the broth, frozen peas, carrots, and corn in a saucepan. Start by bringing it to a boil, then lower the heat and let it simmer, stirring occasionally, for 5 minutes.

Take the meat mixture off the stove and turn on the oven to 400°F.
MAKE THE POTATO TOPPING.
Put the potatoes in a big saucepan, pour water over them until they are covered. Begin by bringing the water to a boil, then lower the heat and let it simmer for 10-15 minutes or until potatoes are soft when tested with a fork.

Drain the potatoes in a colander, then return them to the hot pot for 1 minute to remove any excess liquid.

Stir in butter, half & half, garlic powder, salt, and pepper, and mash the potatoes until the ingredients are well blended.

Mix in the parmesan cheese to the potatoes until evenly distributed.
ASSEMBLE THE CASSEROLE.
Place the meat mixture into a 9×9 (or 7×11) inch baking dish and flatten it out. Smoothly spread the mashed potatoes over the meat.

To prevent the filling from overflowing, place the baking dish on a rimmed baking sheet if it appears to be too full. Then bake it for 25-30 minutes without a cover, and let it cool for 15 minutes before serving.
Prep Time:

20 minutes

Cook Time:

50 minutes