Take a break from the packaged sloppy joes and try these homemade sloppy joes instead! They are, without a doubt, the finest rendition of a childhood favorite! They're yummy delights that are perfect for dinner. This recipe is made from beef with other ingredients to give it a spicy taste.
Sloppy joes have long been a favorite of mine. The sweet and savory mix, as well as the messiness of it all, is fundamentally delicious! Everyone enjoys them, and recently, I've been experimenting with a variety of sloppy joe recipes in the hopes of finding the ideal one. Some were very sweet, while others were overly hot.
Guys, I've finally figured it out. The ideal equilibrium. This sweet, acidic, zesty, and delicious sloppy joe dish has the right texture and consistency. What's best is that it is super easy to make and was an instant hit with my kids. I serve mine with toasted buns, but you can use biscuits or any cookie you like.
Tips:
If you have any leftovers, you can refrigerate, and then freeze completely for up to 4 months. When it's time to serve, thaw overnight in the refrigerator, then reheat for about 10 minutes in the oven.
Prep Time: 5 minutes
Cook Time: 15 minutes
Total Time: 20 minutes
Servings: 4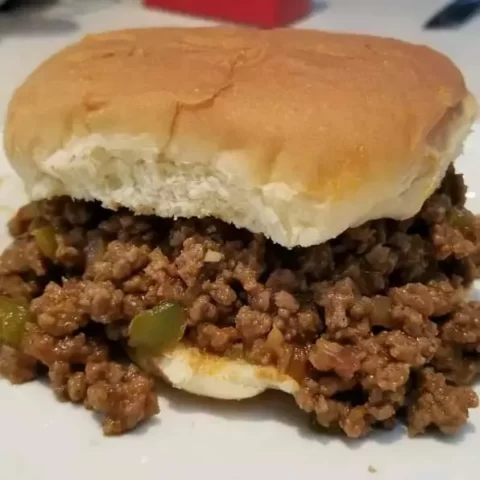 HOMEMADE SLOPPY JOES
Ingredients
1 tablespoon extra-virgin olive oil
1 pound lean ground beef
1 small sweet onion, diced
½ small green bell pepper, diced
2 cloves garlic, minced
1 tablespoon tomato paste
½ cup ketchup
1/3 cup water
1 tablespoon brown sugar
1 tablespoon Worcestershire sauce
2 teaspoons yellow mustard
½ teaspoon kosher salt
¼ teaspoon black pepper
¼ teaspoon red pepper flakes
Toasted buns, for serving
Instructions
Step 1:
Warm the oil in a large non-stick skillet over a medium-high heat. Add beef, onion and bell pepper. Use a wooden spoon to break the meet into crumbles. Allow to cook for about 5 minutes or meat is thoroughly cooked and the vegetables are soft. Add garlic and stir in it for about 30 minutes or until fragrant. Then drain off the grease.
Step 2:
Add and stir in the tomato paste until it is well combined, add ketchup, water, brown sugar, Worcestershire, mustard, salt, pepper, and red pepper flakes. Stir together until it is well combined.
Step 3:
Allow it cook over medium heat for about 10 minutes until the mixture has thickened. Then remove from heat and serve on toasted bun, then enjoy.
Nutrition Information:
Amount Per Serving:
Calories:

0
Total Fat:

0g
Saturated Fat:

0g
Trans Fat:

0g
Unsaturated Fat:

0g
Cholesterol:

0mg
Sodium:

0mg
Carbohydrates:

0g
Fiber:

0g
Sugar:

0g
Protein:

0g