When my husband and I began dating, I had a love for Hot Spinach Artichoke Dip that resulted in me making it at home… a lot! Thank goodness he shares the same love and always encouraged me to make it. Every time we were going to a get together, a potluck, a picnic, or other gathering where we needed to bring something, he suggested this recipe. It was always a hit!
If we were taking one to share with friends or family, I always doubled the recipe, so I had one for us at home. I knew there would be none left over and I also knew we would want some at home. Planning ahead is not always a strength of mine but for this recipe, I planned ahead for us to have a batch in the fridge.
The creamy, tangy base is perfect with the cheese, artichokes, and spinach. It is savory, flavorful, and perfect for dipping. I will warn you that it is hard to stop eating once you begin!
Enjoy!
NOTES:
Spinach:
Frozen Spinach – Thawing your spinach is best for this spinach artichoke dip. Once thawed, remove as much water/liquid from the spinach. You can squeeze the spinach in your hands or use a paper towel to squeeze it out. Frozen pieces of spinach will be long and stringy, simply chop it up the best you can.
Fresh Spinach – You can use fresh spinach in this dip. Just make sure to cook it before adding it to the mixture and then chop it up into pieces you prefer.
Canned Spinach – If you use canned spinach, make sure to drain it well. Since I find the texture of canned spinach too soft for this dip, which is why I prefer to use frozen spinach.
Artichokes: Marinated artichoke hearts are great to use as well and add wonderful flavor.
Cheese: Substitute the cheese for Monterey Jack or fontina cheese for different flavoring.
Seasoning: For a spicy hot spinach artichoke dip try adding in red pepper flakes.
Slow Cooker: To keep this spinach artichoke dip warm add it to a slow cooker on warm, stirring it occasionally.
Serving: Crackers, pita chips, crostini, tortilla chips, and toasted baguette slices are my favorites for dipping.
Make Ahead (Before Baking): Mix all ingredients together following the instructions. Place in your skillet or pan for baking. Cover tightly and store in the refrigerator up to 8 hours. Once you are ready to bake, add a few extra minutes to the baking time and bake according to directions.
Bake Ahead: After baking the spinach artichoke dip, let cool completely. Once it is cooled either tightly cover it with plastic wrap or transfer to an airtight container to store in the refrigerator. It will keep in the refrigerator for 2 to 3 days.
Reheating: When ready to reheat, add it to an oven safe baking dish and reheat it until it is nice and bubbly hot. Or, warm up slowly in a slow cooker on low or warm setting. You can also reheat over the stove top on low while stirring occasionally until it is warmed through.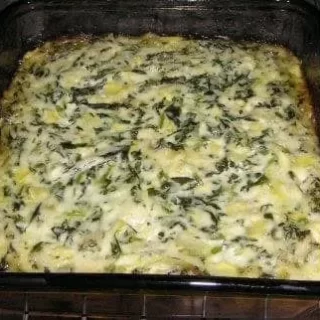 Hot Spinach-Artichoke Dip
Ingredients
8 oz. cream cheese – softened
1/2 cup sour cream
1/4 cup mayonnaise
3 garlic cloves minced
1/2 cup mozzarella cheese – shredded
1 cup Parmesan Cheese – grated
1 14 oz. canned or jarred Artichokes – chopped
1 6 oz. package frozen spinach – thawed
Instructions
Preheat oven to 400° F.
Grease with butter, or spray with cooking oil, a 1-quart baking dish. Set aside.
In a medium sized bowl add the cream cheese, sour cream, and mayonnaise and mix until smooth and incorporated.
Add the garlic, mozzarella cheese, parmesan, artichokes, and spinach. Stir well.
Spread the mixture evenly into the prepared baking dish.
Bake for 15-20 minutes or until it is heated through and bubbly.
Serve warm with sliced baguette, crackers, or pita chips.
Nutrition Information:
Amount Per Serving:
Calories:

0
Total Fat:

0g
Saturated Fat:

0g
Trans Fat:

0g
Unsaturated Fat:

0g
Cholesterol:

0mg
Sodium:

0mg
Carbohydrates:

0g
Fiber:

0g
Sugar:

0g
Protein:

0g