Dive into the heart of Indian cuisine with this delectable Indian Frybread recipe. This traditional dish, cherished for its simplicity and rich taste, invites you on a culinary adventure. Soft, fluffy, and golden-brown, these frybreads are perfect for savoring with spicy chickpea curry (Chole) or indulging in a sweet treat with honey or powdered sugar.
Why You Should Try It:
Indian Frybread embodies the essence of Indian comfort food. With a perfect blend of all-purpose flour, baking powder, yogurt, and spices, it's a celebration of flavors. Whether you're seeking a savory delight or a sweet indulgence, this recipe offers versatility and deliciousness in every bite.
Exciting Story:
Picture a bustling Indian kitchen, where generations have gathered to create these flavorful frybreads. The tantalizing aroma of frying bread fills the air as families come together to celebrate special occasions or enjoy cozy evenings. Each frybread is a testament to the heritage and culinary expertise passed down through the ages.
Why Indian Frybread Is a Must-Try:
Indian Frybread can be tailored to your taste buds. Pair it with spicy Chole for a hearty meal or drizzle it with honey and dust it with powdered sugar for a delightful dessert. Its adaptability makes it a must-try for every culinary explorer.
What Makes It Unique:
The combination of all-purpose flour, baking powder, yogurt, and spices creates a dough that's both soft and flavorful. The frybreads puff up beautifully in the hot oil, creating a crisp exterior that gives way to a tender, airy interior. It's a perfect balance of textures and tastes, making it a unique culinary experience.
Remember it later
Like this recipe! Pin it to your favorite board NOW!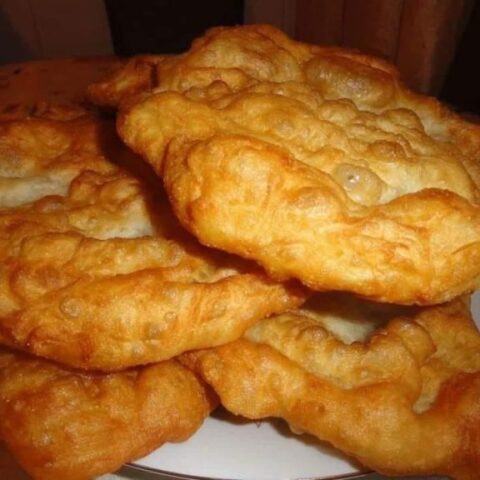 INDIAN FRYBREAD RECIPE
Ingredients
2 cups All-Purpose Flour (Maida)
1/2 teaspoon Baking Powder
1/4 teaspoon Baking Soda
2 tablespoons Yogurt
1 tablespoon Sugar
1/2 teaspoon Salt
Water, as required
Oil, for frying
Instructions
Prepare the Dough:
In a large mixing bowl, combine all-purpose flour, baking powder, baking soda, salt, and sugar. Mix well.
Add yogurt and gradually knead the dough, adding water as needed, until it's smooth and elastic. Cover with a damp cloth and let it rest for an hour.
Shape and Fry:
After the dough has rested, divide it into golf ball-sized portions. Roll out each ball into a thin, round disc.
Heat oil in a deep frying pan. Test the oil's readiness by dropping a small piece of dough; if it floats to the top immediately, the oil is hot enough.
Carefully slide the rolled dough into the hot oil. Press gently with a slotted spoon to help it puff up.
Fry until both sides turn golden brown. Remove and drain on paper towels.
Serve and Enjoy:
Serve the Indian Frybread hot with a side of spicy chickpea curry (Chole) or drizzle with honey and sprinkle with powdered sugar for a sweet treat.
Nutrition Information:
Amount Per Serving:
Calories:

0
Total Fat:

0g
Saturated Fat:

0g
Trans Fat:

0g
Unsaturated Fat:

0g
Cholesterol:

0mg
Sodium:

0mg
Carbohydrates:

0g
Fiber:

0g
Sugar:

0g
Protein:

0g
Remember it later
Like this recipe! Pin it to your favorite board NOW!