Spicy sausage, peppers, onions and basil, lightly tossed with wine are the components of this wholesome Italian dish. It is really easy to prepare and your only worry will be that you didn't prepare more.
Sometimes, you want to mix two distinct cultures together to yield something great, and that is the story behind this recipe. It sees a mix between Italian fusion twist and Thai style recipes, and like virtually every cultural mix, the result is just sublime.
This recipe is made with noodles drowned in a savory, wine-infused sauce, chunks of spicy Italian sausage, sweet bell peppers, onions, and basil. It's super east to prepare, coming together in less than an hour, and if you've ever had Thai drunken noodles (also known as pad kee mao), then you'd know how colorful, rich, and savory this dish is.
Tips:
•It's best to use a large pan: For this meal, use a large, heavy-bottomed pan (cast iron or a Dutch oven), since it maintains heat well and adds a bit extra color and flavor to your peppers and onions; plus, it allows you to toss the noodles right into the sauce at the end.
•Whether you want to go red or white, the choice is yours. This recipe calls for white wine, but red wine would also be wonderful; use whatever you choose with this dish.
Prep Time: 30 mins | Cook Time: 30 mins | Total Time: 1 hr | Yield: 6 Servings
Print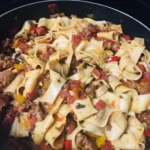 ITALIAN DRUNKEN NOODLES RECIPE
---
Description
This luscious noodle dish just became my favourite! A big thanks to my good friend, Andy, for recommending this recipe. Serve this Italian Drunken Noodles with toasted garlic bread, and you have yourself a meal to remember! Have a blessed day, friends, and I hope you are all well today.
---
12 ounces egg noodles
4 clove garlic, minced
1 yellow pepper, diced
1 pound Italian sausage
1 teaspoon Italian seasoning
½ cup white wine (like chardonnay)
1 can(s) diced tomatoes with juice (28 oz)
2 tablespoons parsley
1 red pepper, diced
1 orange pepper, diced
Fresh Parmesan cheese, optional
¼ cup basil, fresh
1 ½ teaspoon salt
½ teaspoon black pepper
---
Instructions
Put a large pot on the stove over medium-high heat.
Add 2 tbsp of olive oil and let it sizzle.
Add the Italian sausage, then cook until crumbly and brown.
Transfer the sausage into a mixing bowl.
In the empty pot, add the bell peppers and sauté until soft. Season with salt, pepper, and Italian seasoning.
Add the garlic, then sauté until fragrant.
Add the white wine, then scrape the bottom of the pot to get the browned bits. Simmer for a few minutes until it reduces its volume.
Add the olive oil, freshly chopped basil, and tomatoes. Stir and cook for a minute.
Add 3 tbsp of olive oil, then add the basil, ½ cup of the Julienned basil, and browned sausage. Stir until well blended.
Simmer everything for a few minutes.
Remove the pot from the stove.
Refer to the package of the noodles to know how to prepare them.
Add the drained noodles into the sauce, then toss until well coated.
Sprinkle basil over each serving to garnish.
Serve immediately and enjoy!