In my household, it's an unwritten rule that sweet potatoes must grace our holiday table. They happen to be my personal favorite, and I find myself making sweet potato casserole all year long. When it comes to baked sweet potatoes, I prefer them in their natural, unadorned state, reveling in their inherent sweetness. But let me tell you, this recipe has become a cherished addition to my sweet potato repertoire. Even my son, who has been known to reject various sweet potato dishes in the past, is head over heels for this one. It's nothing short of a miracle—a truly fantastic recipe.
The maple syrup weaves its magic, imparting a delightful flavor, while the pecans become beautifully toasted. Every element comes together in perfect harmony, creating an unbelievably delicious experience. On every occasion when I've served this dish at family holiday meals, for dinner guests, or simply for my own family, the response has been overwhelming. People can't stop raving about it, and let me tell you, there are never any leftovers!
The beauty of this recipe lies in its simplicity. With basic ingredients, it manages to deliver a flavor that is truly spectacular. You might just find yourself replacing your usual sweet potato dish with this gem. I was won over by its charm, and to top it all off, it's even easier to make than my other recipes. It's a win-win situation all the way around!
Prepare yourself for sweet potato bliss, my friends. This recipe is a game-changer that will leave your taste buds singing with joy. Enjoy every mouthwatering bite!
Notes for perfecting your sweet potato dish:
Brown Sugar: Personally, I adore the caramelization that brown sugar brings to the table. However, if you're looking to reduce the overall sugar content, feel free to omit the brown sugar. Rest assured, these sweet potatoes are still absolutely fabulous and naturally sweet on their own.
Dairy: For a dairy-free option, swap out the butter and use coconut oil instead. It adds a lovely flavor and works like a charm.
Nuts: If pecans aren't your cup of tea, fear not! Walnuts make a fantastic substitute and work beautifully in this recipe.
Thickness: When slicing the potatoes, aim for approximately ½ inch thickness. Keep in mind that if you choose to slice them differently, you'll need to adjust the roasting time accordingly—either longer or shorter.
Maple Syrup and Spices: To ensure the maple syrup mixture stays nicely contained, place it in the middle of each sweet potato round. This will prevent any spills or messes. As for spices, cinnamon is a wonderful choice, but don't be afraid to experiment with allspice, nutmeg, or even pumpkin pie spice. They all bring their own unique twist to the flavor profile.
Print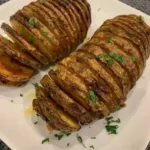 I'VE BEEN MAKING SWEET POTATOES WRONG MY ENTIRE LIFE
---
2 pounds sweet potatoes
2 Tbsp. butter – melted
salt and pepper to taste
¼ cup maple syrup
1 Tbsp. brown sugar
½ cup chopped pecans
---
Instructions
Preheat oven to 450°F. Line a rimmed baking sheet with aluminum foil.
Scrub the sweet potatoes and peel them (if you prefer). Then, slice each crosswise into ½ inch thick rounds.
In a large bowl, toss the sliced sweet potatoes with the melted butter, salt, and pepper.
Spread out the slices in an even layer on the prepared baking sheet.
Bake sweet potatoes in the preheated oven for 20 minutes, or until the bottoms are starting to brown.
While the sweet potatoes are baking, combine the maple syrup, brown sugar, and pecans in a bowl.
When the sweet potatoes are finished baking, remove the baking tray from the oven, and carefully flip the sweet potato slices.
Divide the maple syrup mixture evenly over the sweet potatoes – keeping the mixture in the center as best you can.
Return to the oven and bake for 5 minutes, or until the syrup is bubbly.