Delicious caramel cookie bars that will, as the name says, knock you naked. These epic cookie bars combine the flavors of caramel and peanut butter to give the loveliest cookie bars ever!
If you've got a sweet tooth like mine, then you'll know that there's always a desire to satisfy that sweet craving. Well, there are a lot of things that can help you satisfy those cravings, but nothing quite beats these delicious caramel cookie bars. These bars are so good, they will literally knock you naked!
These babies are nice and luscious. Made with an amazing layer of gooey caramel stuffed in between layers with a hint of peanut butter, these cookie bars are so good they won't just knock your socks off. These bars will actually knock you naked, hence the name – knock you naked bars. These cookie bars are EPIC and you'll never make them another way again!
These bars are the perfect treat to make for any event. Make these during any holiday gathering or for Super Bowl Sunday, and get your entire friends and family drooling over them. If you're one that doesn't like having guess over, then never make this for them.
These bars basically incorporate chocolate chip cookies with caramel and peanut butter! The base of these bars is a chocolate chip cookie dough and then the filling is made from Kraft caramels and peanut butter, with evaporated milk.
The good thing is that these cookies are incredibly easy to make, meaning you don't have to wait to enjoy them!
Prep: 20 minute
Cook: 30 minute
Yield: 24 bars
Print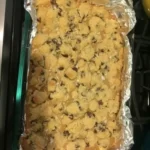 KNOCK YOU NAKED BARS
---
Chocolate Chip Cookies:
2¼ cups all-purpose flour
1 teaspoon baking soda
1 teaspoon salt
1 cup (2 sticks) butter, softened
¾ cup granulated sugar
¾ cup packed brown sugar
1 teaspoon vanilla extract
2 large eggs
2 cups Semi-Sweet Chocolate Morsels
Caramel-Peanut Butter:
½ cup Evaporated Milk
60 whole caramels, Unwrapped
½ cup peanut butter, melted
1 cup Semi-Sweet Chocolate Chips
---
Instructions
Chocolate chip cookies:
Step 1:
Preheat your oven to 375 degrees, then grease a 9×13-inch jelly-roll pan.
Step 2:
Combine flour, baking soda and salt in a small bowl and stir till they mix well.
Step 3:
Beat butter, granulated sugar, brown sugar and vanilla extract in a large bowl until creamy. Then add the eggs, one at a time, beating well after each addition.
Step 4:
Gradually add the dry ingredients to the wet ingredients and beat well till they mix completely. Then Stir in chocolate morsels.
Sep 5:
Spread half of the cookie dough into the greased pan and then bake for 10 minutes. Remove from the oven and set aside
Caramel-Peanut Butter:
Step 6:
Melt caramels with evaporated milk in a double boiler
Step 7:
To the melted caramel-milk mix, add melted peanut butter, and mix well. Then pour the mix over the baked cookie base.
Step 8:
Sprinkle chocolate chips as evenly as you can over the caramel-peanut butter mix on the cookie base.
Step 9:
Turn out the remaining cookie dough on the work surface. Use your hands to press it into a large square a little smaller than the pan. Then use a spatula to remove it from the surface and set it on top of the caramel and chocolate chips.
Step 10:
Bake for 15 to 20 minutes or until golden brown and edges are set. Cool in pan on wire rack. Then serve and enjoy.
Notes
NUTRITION INFORMATION
Per serving
Calories: 439kcal, Carbohydrates: 52g, Protein: 6g, Fat: 22g, Saturated Fat: 12g, Cholesterol: 45mg, Sodium: 311mg, Potassium: 243mg, Fiber: 2g, Sugar: 27g, Vitamin A: 350IU, Vitamin C: 0.2mg, Calcium: 53mg, Iron: 3mg