This Lipton Souperior Meatloaf recipe is the epitome of comfort food, combining the simplicity of traditional meatloaf with the rich, savory flavors that only Lipton can bring. With each mouthful, you'll experience the perfect balance of seasonings, making it an ideal choice for a cozy family dinner.
Why You'll Love This Recipe:
This meatloaf isn't just any meatloaf; it's a Souperior Meatloaf. With the infusion of Lipton Recipe Secrets Onion Soup Mix, every bite is a delightful journey of flavors. Plus, it's incredibly easy to make, making it a weeknight dinner hero. The tender, juicy texture and the aromatic essence of onions will make this dish a favorite among meatloaf enthusiasts.
Recipe Tips and Variations:
Meat Swap: Experiment with ground turkey or a blend of beef and pork for a unique twist on the classic.
Cheese Surprise: Add a layer of your favorite cheese in the middle of the meatloaf for a gooey, savory surprise.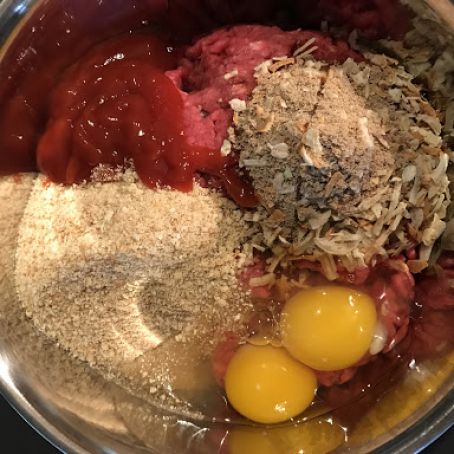 Why This Lipton Souperior Meatloaf Stands Out:
Classic Comfort: It captures the essence of classic meatloaf, offering a comforting taste that's nostalgic and familiar.
Time-Tested Flavor: The Lipton Recipe Secrets Onion Soup Mix adds depth and character, transforming a traditional dish into an extraordinary experience.
Family Favorite: Perfect for family gatherings, this meatloaf will have everyone reaching for seconds.
What to Serve With This Recipe:
Pair this Lipton Souperior Meatloaf with creamy mashed potatoes and steamed green beans for a well-rounded, satisfying meal.
Remember it later
Like this recipe! Pin it to your favorite board NOW!
Print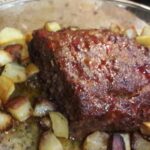 Lipton Souperior Meatloaf
---
Author:

Total Time:

1 hour 35 minutes

Yield:

8

Servings

1

x
Description
There's nothing better than meatloaf for supper and this recipe is extra good because of the addition of one envelope of Lipton onion soup mix. Lipton Souperior Meatloaf is the best recipe to make on any weeknight because it comes together quickly and will feed your whole family with leftovers for later. Serve with mashed potatoes, steamed vegetables, a lightly dressed side salad, or whatever sides you enjoy.
---
1 envelope Lipton Recipe Secrets Onion Soup Mix
2 pounds ground beef or ground turkey
3/4 cup plain dry bread crumbs
2 eggs
3/4 cup water
1/3 cup ketchup
Directions:
---
Instructions
Preheat your oven to 350°F.
Line a 13×9-inch baking or roasting pan with aluminum foil, and lightly spray with non-stick cooking spray.
Mix and Shape:
In a large bowl, combine the Lipton Recipe Secrets Onion Soup Mix, ground beef or turkey, dry bread crumbs, eggs, water, and ketchup. Mix thoroughly until well combined.
Shape the mixture into a loaf in the prepared pan.
Bake to Perfection:
Bake the meatloaf in the preheated oven for 1 hour or until cooked through. The internal temperature should reach 160°F.
Rest and Serve:
Let the meatloaf stand for 10 minutes to allow the flavors to meld together. Slice and serve, delighting in the Souperior taste of this classic dish.
Prep Time:

15 minutes

Cook Time:

80 minutes
Remember it later
Like this recipe! Pin it to your favorite board NOW!