Mama's Cornbread Dressing! This cherished family recipe encapsulates generations of culinary love. Crafted with aromatic onions, tender celery, and a blend of spices, this cornbread dressing is the epitome of comfort on any table. Get ready to experience a side dish that's not just food but a warm, nostalgic embrace.
Why You Should Try It:
If you're seeking a taste of home, Mama's Cornbread Dressing is your ticket. Rich in tradition and flavor, this dish embodies the essence of heartfelt cooking. Every bite tells a story of love, family gatherings, and the joy of sharing a meal together. Whether it's a holiday feast or a simple Sunday dinner, this dressing transforms any occasion into a memorable culinary experience.
Exciting Story:
Picture a bustling kitchen filled with the enticing aroma of sautéed onions and celery. In the midst of the comforting scents, a cherished family recipe comes to life. Generations gather around, watching as Mama expertly combines crumbled cornbread with toasted bread, infusing the mix with fragrant spices and a touch of turkey broth. As the dressing bakes, the kitchen fills with anticipation. When it emerges, golden and fragrant, it's a testament to generations of culinary expertise and the joy of preserving family traditions.
Why Mama's Cornbread Dressing Is a Must-Try:
This dressing isn't just a side dish; it's a testament to the enduring power of family recipes. With every spoonful, you're tasting history, love, and the essence of home-cooked comfort.
What Makes It Unique:
Mama's Cornbread Dressing strikes the ideal balance between savory and comforting. The blend of sautéed onions, celery, sage, and poultry seasoning dances harmoniously, creating a symphony of flavors that's impossible to resist.
Remember it later
Like this recipe! Pin it to your favorite board NOW!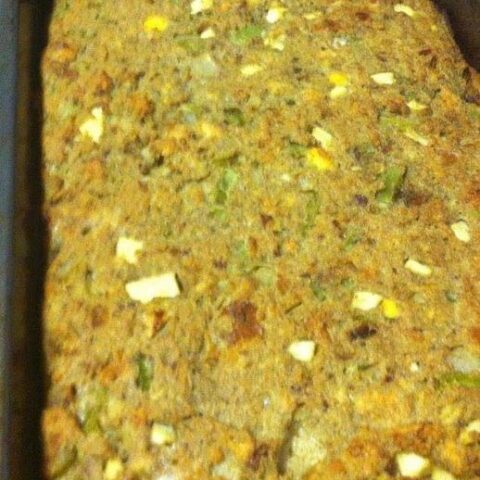 Mama's Cornbread Dressing
Ingredients
2 cups diced onions
2 cups diced celery
1/2 cup unsalted butter
4 cups crumbled, toasted bread, finely crushed
4 cups finely crumbled cornbread
1 tbsp salt
2 tsp freshly ground black pepper
1 tbsp dried sage leaves
2 tsp poultry seasoning blend
Turkey broth as needed
4 large eggs, beaten until smooth
Instructions
In a large skillet, melt the butter over medium heat. Add diced onions and celery; cook until soft and tender.
In a large bowl, mix crumbled toasted bread and cornbread. Add cooked onions, celery, and their cooking liquid. Blend in salt, pepper, dried sage, and poultry seasoning until well combined.
Gradually add turkey broth using a bulb baster until the mixture is moistened. Stir in beaten eggs.
Transfer the mixture to a large, greased baking dish.
Bake in a preheated oven at 400°F for 30-40 minutes or until the dressing is beautifully browned on top.
Serve with love, knowing you're sharing a cherished family tradition with each spoonful.
Nutrition Information:
Amount Per Serving:
Calories:

0
Total Fat:

0g
Saturated Fat:

0g
Trans Fat:

0g
Unsaturated Fat:

0g
Cholesterol:

0mg
Sodium:

0mg
Carbohydrates:

0g
Fiber:

0g
Sugar:

0g
Protein:

0g
Remember it later
Like this recipe! Pin it to your favorite board NOW!