Meatball Boats
Set sail on a culinary journey with our scrumptious Meatball Boats. This unique recipe combines juicy, flavorful meatballs with fresh, crusty bread to create a dish that's as fun to make as it is to eat!
Questions & Answers:
Q: Can I use any type of bread for this recipe?
A: Yes, but a sturdy bread like a baguette or ciabatta works best to hold the meatballs and sauce. You want something with a good crust that won't get soggy.
Q: Can I add vegetables to my Meatball Boats?
A: Absolutely. Adding some sautéed bell peppers, onions, or mushrooms could provide a delicious contrast to the meatballs.
Q: What type of sauce works best for Meatball Boats?
A: A classic tomato-based marinara sauce works well, but you could also use a barbecue sauce, a creamy alfredo, or even a spicy arrabbiata. The choice is up to your personal preference!
This Meatball Boats recipe is sure to bring smiles all around the dinner table. The combination of tender meatballs, zesty sauce, and crusty bread is simply irresistible. Give it a go and let us know what you think in the comments below!
Print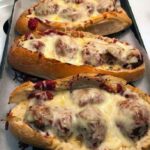 Meatball Boats
---
2

pounds ground beef

2

eggs

1 cup

breadcrumbs

1/4 cup

fresh parsley, plus 2 tablespoons, chopped, divided

6

cloves garlic, minced, divided

1 teaspoon

salt

1/2 teaspoon

pepper
Vegetable oil

4

soft rolls

8

slices mozzarella cheese

1 cup

marinara sauce

1/4 cup

butter, melted
Freshly grated Parmesan cheese
---
Instructions
In a large bowl, combine the ground beef, eggs, bread crumbs, 1/4 cup parsley, 3 cloves garlic, salt, and pepper. Shape the ground beef mixture into golf ball-size balls.
Heat a cast iron pan or skillet with oil over medium-high heat.
Cook the meatballs until browned on all sides. Transfer meatballs to a plate then remove pan from heat.
Heat oven to 350 degrees F (180 degrees C).
Place the soft rolls in a baking sheet. Cut the top of the rolls with a knife and press the inside down to create a boat.
Mix together the melted butter, 3 cloves garlic and 2 tablespoons parsley.
Brush the rolls with the garlic butter. Bake for 5 minutes, or until toasted.
Place two slices of mozzarella in the rolls. Place a spoonful of marinara on top of the cheese.
Place three meatballs in the boat and top with more marinara.
Bake for 25 minutes, or until cheese is melted.
Top with Parmesan cheese.
FAQs:
Q: What are Meatball Boats?
A: Meatball Boats are essentially a type of sandwich or sub that uses bread as the "boat" to hold the meatballs and sauce. The bread is partially hollowed out to create a well, then filled with meatballs and often topped with cheese, then baked until hot and melty.
Q: How do you make Meatball Boats?
A: To make Meatball Boats, you start by preparing your favorite meatball recipe. While the meatballs are cooking, take a loaf or rolls of fresh bread and hollow out a section to create a "boat". Once the meatballs are cooked and covered in sauce, they're placed into the hollowed-out bread and often topped with cheese. The Meatball Boats are then baked until the cheese is melty and the bread is toasty.
Q: Can I make Meatball Boats in advance?
A: Yes, you can make the meatballs and sauce in advance, and even assemble the boats. We recommend baking them just before serving to ensure the bread stays crispy and the cheese is perfectly melted.