"Melt in your Mouth Strawberry Buttermilk Pound Cake." Prepare yourself for a culinary experience that transcends the ordinary, as the sheer intensity of strawberry flavor harmonizes with the unmatched moistness of the cake, resulting in a symphony of taste that will leave you spellbound.
This culinary masterpiece is more than just a cake; it's a revelation of flavors that dance on your taste buds with every luscious bite. The fusion of the pronounced strawberry essence with the sumptuousness of the cake's texture forms a partnership that is both harmonious and sublime.
As you take your first bite, you'll be greeted by the distinct aroma of strawberries that envelops your senses, preparing you for the explosion of taste that is about to unfold. The cake's ultra-moist consistency is an experience in itself, as it practically dissolves on your tongue, leaving a trail of pure delight in its wake.
Each slice of this pound cake is a journey into the heart of culinary excellence, where the art of baking transcends the ordinary. The depth of flavor and the perfect balance of sweetness intertwine flawlessly, creating a symphony of taste that is both indulgent and satisfying.
As you savor every morsel, you'll find yourself immersed in a world where strawberries reign supreme, and the cake becomes a canvas for their vibrant essence to shine. The "Melt in your Mouth Strawberry Buttermilk Pound Cake" is more than a dessert; it's a masterpiece that speaks to the senses and captures the essence of pure culinary pleasure.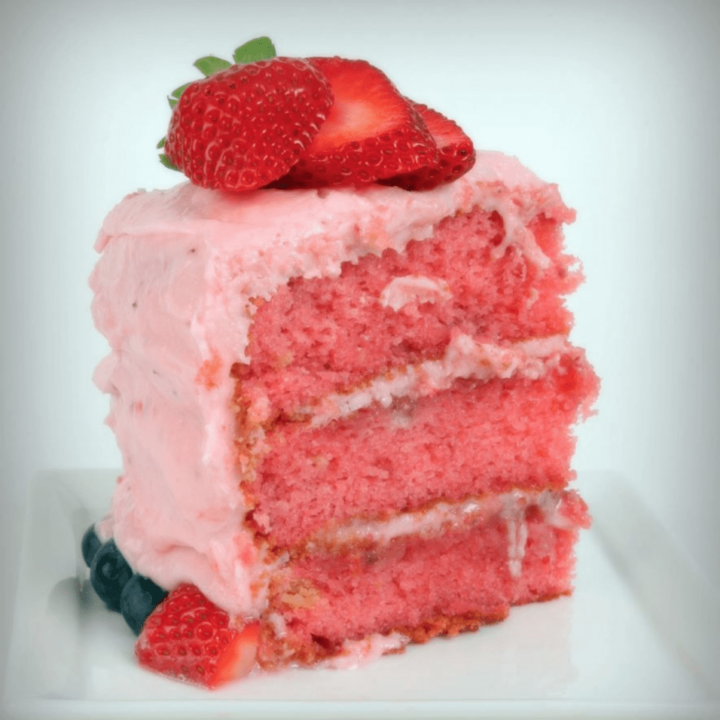 MELT IN YOUR MOUTH STRAWBERRY BUTTERMILK POUND CAKE
Ingredients
½ cup shortening
½ cup butter
2 cups granulated sugar
3-ounce package strawberry gelatin I used Jello brand
5 large eggs at room temperature
1 cup buttermilk (whole milk can be used) at room temperature
3 cups all-purpose flour
½ teaspoon salt
2 and ½ teaspoon baking powder
1 tablespoon vanilla extract
Instructions
Sift flour, salt, and baking powder together.
Preheat oven to 325 degrees. Prepare a 10-inch bundt pan with solid vegetable shortening then sugar or flour.
In the bowl of a stand mixer, cream together shortening and butter. Add sugar and mix until fluffy.
Next mix eggs in one at a time until yellow mixes in the batter. Add vanilla and mix in the batter.
Add strawberry gelatin to the flour mixture. Whisk to combine.
Add flour mixture alternately with buttermilk, beginning and ending with flour mixture. (⅓ flour mixture, ½ buttermilk, ⅓ flour, ½ buttermilk, ⅓ flour)
Pour batter into a bundt pan and smooth top.
Bake in 325-degree oven 65 to 70 minutes.
Allow cake to cool for 10 – 15 minutes then carefully turn out on a serving tray.
Nutrition Information:
Amount Per Serving:
Calories:

0
Total Fat:

0g
Saturated Fat:

0g
Trans Fat:

0g
Unsaturated Fat:

0g
Cholesterol:

0mg
Sodium:

0mg
Carbohydrates:

0g
Fiber:

0g
Sugar:

0g
Protein:

0g