Are you on the hunt for a hearty and flavorful dish that combines the best of Mexican flavors with the comforting layers of lasagna? Look no further than the delectable creation known as Mexican Taco Lasagna! This culinary masterpiece is perfect for those who crave the zesty essence of tacos and the comforting familiarity of lasagna. Whether you're hosting a fiesta with friends or simply treating your family to a satisfying dinner, this dish has got you covered.
Who's it For and Why it's Great:
Mexican Taco Lasagna is the ultimate fusion dish that appeals to both Mexican cuisine enthusiasts and lasagna lovers. It's a fantastic way to put a spin on traditional flavors, making it a crowd-pleaser at gatherings and family meals alike. This recipe captures the essence of a taco while embracing the indulgent layers of a classic lasagna, making it a fantastic choice for those who appreciate the best of both worlds.
The combination of seasoned ground beef, zesty taco seasoning, gooey cheddar cheese, and the creamy goodness of nacho cheese soup creates an explosion of flavors that will leave your taste buds dancing. The layers of soft tortillas add a satisfying texture to every bite, while the toppings of guacamole, cilantro, and sour cream bring a fresh and vibrant touch to the dish.
Kitchen Equipment You'll Need:
Before you dive into the culinary adventure of creating Mexican Taco Lasagna, let's ensure you have all the necessary kitchen equipment at your disposal:
9×9 baking dish
Non-stick spray
Large skillet
Mixing bowl
Oven (preheated to 350 degrees)
Grater (for the cheddar cheese)
Tips, Shortcuts, and Variations:
Speedy Prep: To save time, consider preparing the seasoned meat mixture ahead of time and storing it in the fridge until you're ready to assemble and bake the lasagna.
Veggie Delight: For a vegetarian twist, swap the ground beef for a combination of sautéed vegetables like bell peppers, onions, and mushrooms.
Spice It Up: Adjust the level of heat by choosing mild or spicy taco seasoning, and add diced jalapeños for an extra kick.
Remember it later
Like this recipe! Pin it to your favorite board NOW!
Print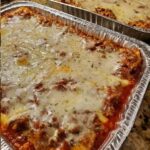 Mexican Taco Lasagna
---
Author:

Total Time:

40 minutes
1 pound ground beef
1 packet taco seasoning
1/4 cup water
1 can Ro*Tel diced tomatoes with chiles, drained
1 can Nacho Cheese Soup
1/4 cup sour cream
1 cup grated cheddar
12 8-inch soft tortillas
guacamole, cilantro, sour cream for topping, as desired
---
Instructions
Preheat oven to 350 degrees. Spray a 9×9 baking dish with non-stick spray. Add the beef to a large skillet over medium heat and crumble as it cooks. Drain grease when cooked through.
Add the taco seasoning and water to the skillet and cook for 2 minutes. Dump the tomatoes, cheese soup, and sour cream into a medium mixing bowl. Stir in the cooked meat.
Place 3 tortillas in the bottom of the prepared baking dish. Top with 1/3 of the meat mixture. Repeat layers, ending with a layer of tortillas on the top. Sprinkle the cheese over the top.
Bake for 20 minutes or until hot and melty. Serve sprinkled with chopped cilantro, guacamole, and extra sour cream, as desired.
Prep Time:

10 minutes

Cook Time:

30 minutes

Cuisine:

MEXICAN
Remember it later
Like this recipe! Pin it to your favorite board NOW!