I love this dip so much! The first time I tasted this dip was at a friend's party. I fell in love with it instantly. It just goes perfectly well with everything! Yeah, literally everything. It is very easy to make this dip as well. I have listed all the steps. All you need to do is to follow them step by step and you are good to go! By the way, the more heat you add, the more fun it would taste! The number of chillies I listed is just a default because not everyone likes spicy food so adjust to your liking. I hope you all love this recipe. You all have an amazing day. Enjoy!
Notes:
This dip tastes the same as the ones you eat at any Mexican restaurant.
You can add more heat if you want it spicier. Add more chilli pepper.
Feel free to add more ingredients if you wish.
Prep: 5 mins | Cook: 10 mins | Total: 15 mins | Servings: 8 | Yield: 8 servings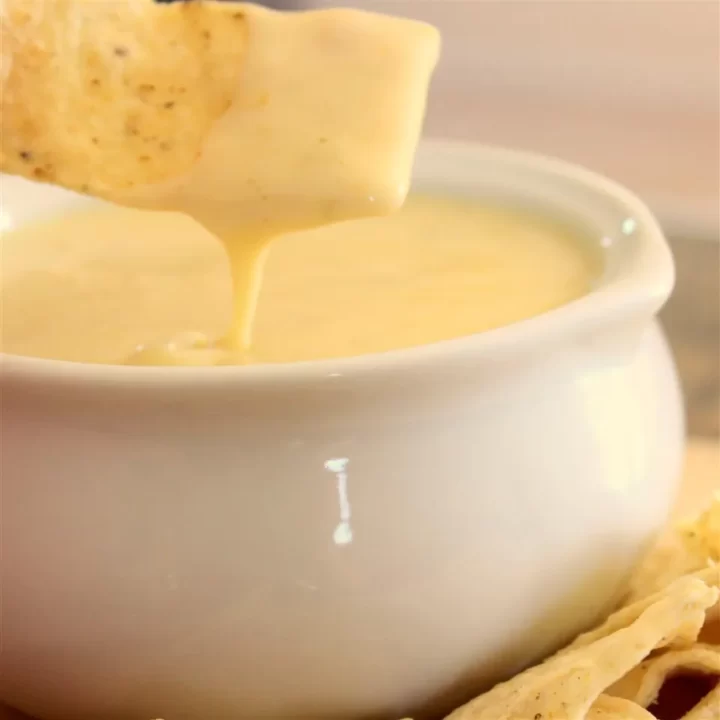 MEXICAN WHITE CHEESE DIP/SAUCE
Ingredients
1-pound white American cheese, cubed
½ cup milk, or as needed
1 tbsp of butter or margarine
2 (4 oz) cans chopped green chillies
2 tsp cumin
2 tsp garlic powder
2 tsp onion powder
1 pinch cayenne pepper to taste
Instructions
Step 1: Place a medium saucepan on the stove and add in the butter, milk, and cheese.
Step 2: Turn the heat to low and cook until the cheese has melted completely. Stir constantly to prevent the ingredients from sticking.
Step 3: Add in the cumin, garlic powder, green chillies, cayenne pepper, and onion pepper. Stir until well mixed.
Step 4: Pour more milk if the dip is too thick to your preference. Simmer until heated through.
Step 5: Remove from the heat and let it sit at room temperature to cool.
Step 6: Serve over burritos or nachos. Enjoy!
Nutrition Information:
Amount Per Serving:
Calories:

0
Total Fat:

0g
Saturated Fat:

0g
Trans Fat:

0g
Unsaturated Fat:

0g
Cholesterol:

0mg
Sodium:

0mg
Carbohydrates:

0g
Fiber:

0g
Sugar:

0g
Protein:

0g