Indulge in the sweet and creamy flavors of Mini Strawberry Cheesecake Bites. These delightful bite-sized treats are perfect for parties, potlucks, or simply satisfying your sweet tooth. With a buttery graham cracker crust, velvety cream cheese filling, and a burst of fresh strawberry on top, these mini cheesecakes are a crowd-pleaser. Get ready to impress with this easy-to-make and irresistibly delicious dessert!
FAQ – Frequently Asked Questions:
Q: Can I use a different type of crust?
A: Absolutely! While graham cracker crust is a classic choice, you can experiment with different crust variations. Oreo cookie crust, vanilla wafer crust, or even a chocolate chip cookie crust can add a unique twist to these mini cheesecake bites.
Q: Can I make these cheesecake bites in advance?
A: Yes! These mini cheesecake bites can be made in advance. Simply prepare them as instructed and store them covered in the refrigerator for up to 2 days. Add the fresh strawberry topping just before serving to keep them looking fresh and vibrant.
Q: Can I use frozen strawberries instead of fresh?
A: While fresh strawberries are recommended for the best flavor and texture, you can use thawed and drained frozen strawberries as a substitute if fresh ones are not available. Pat them dry to remove any excess moisture before placing them on top of the cheesecake bites.
Q: Can I freeze these mini cheesecake bites?
A: Yes! These cheesecake bites are freezer-friendly. Place them on a baking sheet in a single layer and freeze until solid. Then transfer them to an airtight container or freezer bag for up to 1 month. Thaw them in the refrigerator before serving.
Q: Can I customize the toppings?
A: Absolutely! While fresh strawberries are a classic choice, you can get creative with the toppings. Consider topping them with other fruits like blueberries, raspberries, or a drizzle of chocolate sauce for extra indulgence.
Print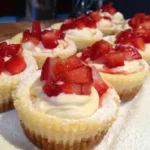 MINI STRAWBERRY CHEESECAKE BITES
---
2 8oz pkgs cream cheese (softened at Room Temp)¾ cup sugar
3 (large) eggs
1 tsp Vanilla Extract
1 tablespoon lemon juice (freshly squeezed if possible)
Optional: 1 or 2 teaspoons of lemon zest
Mini Nilla Wafers (REGULAR! None of that Low Fat crap.
1 can of pie filling (Strawberry is always winning).
---
Instructions
First, you will need to prepare a cupcake pan. Next, fill the pan with cupcake liners. Then, place the mini wafers inside the cupcake pan, making sure that the sides are mounded upwards.
Combine all the ingredients for the filling. If you want to give it a lemony flavor, you will need to include the sugar, cream cheese, any extract, eggs, and lemon zest.
Blend everything in a blender until smooth.
Fill the cupcake liners with the filling. It won't hurt if the filling is a bit too low. They do puff up when they cook, and then they settle down with a dip in the middle.
Bake the mixture in the oven for 18-20 minutes or until fully cooked.
Let them cool down before adding the filling. This can be done quickly if the filling is kept in the refrigerator. They are fragile and may break if they are frozen.
Take the ingredients for the filling and combine them in a bowl until you have a smooth mixture.
Sprinkle a bit of the filling over each cheesecake cup.
Place them in the refrigerator again. Let it chill for at least another hour. Once it's pulled out, gently jiggle the pan until it is barely jiggled. These cupcakes will take your taste buds to new heights.