Just by looking at the picture of these wonderful cookies, you will have a concrete idea of how they would taste! I'll spoil it then. They taste divine! The minty after taste always get me. It is something you want to taste every bite. Feel free to add more ingredients to this simple recipe. I hope you all love and appreciate it. May you all have a blessed day, friends.
Enjoy!
Prep Time: 10 mins | Cook Time: 10 mins | Total Time: 20 mins | Servings: 3 dozen
Print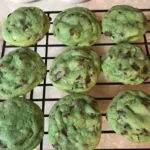 MINT CHOCOLATE CHIP COOKIES
---
1 cup of sugar
½ cup butter softened (1 stick)
1 egg
½ cup sour cream
1 small box instant vanilla pudding mix 3.4 oz
½ tsp salt
½ tsp baking soda
2 cups all-purpose flour
2 tsp mint extract
3 drops blue colouring + 10–15 drops green colouring
1 ½ cups chocolate chips*
---
Instructions
Step 1: Apply baking spray on a cookie sheet.
Step 2: In a medium mixing bowl, add the butter and sugar. Beat until well mixed.
Step 3: Add the egg, pudding mix, and sour cream. Beat until well combined.
Step 4: In another mixing bowl, add the flour, baking soda, and salt. Whisk until well mixed.
Step 5: Transfer the flour mixture into the pudding mixture. Stir until well blended.
Step 6: Add the food colouring and mint extract.
Step 7: Add ¾ cup of chocolate chunks, ½ cup of Andes baking bits, and ¾ cup of chocolate chips. Stir until well combined.
Step 8: Drop tablespoons of the batter into the prepared cookie sheet.
Step 9: Place the baking sheet inside the oven and bake for 10 minutes at 375 degrees F or 190 degrees C.
Step 10: Remove from the oven and let the cookies sit on a wire rack to cool at room temperature.
Step 11: Serve and enjoy!