Looking for the perfect appetizer to impress your guests at your next gathering? Look no further than Mom's 7 Layer Dip! This crowd-pleasing classic combines layers of flavorful ingredients, resulting in a delicious and visually stunning dish. It's easy to assemble, customizable, and always a hit at parties. Get ready to dig into this irresistible dip that will have everyone coming back for more!
FAQ – Frequently Asked Questions:
Q: Can I make this dip ahead of time?
A: Absolutely! You can prepare the individual layers of the dip in advance and refrigerate them separately. When you're ready to serve, simply assemble the layers right before serving. This way, you can save time and have a fresh and vibrant dip for your guests.
Q: Can I customize the layers in this dip?
A: Definitely! Mom's 7 Layer Dip is highly customizable. Feel free to add or substitute ingredients based on your preferences. You can include additional layers such as diced jalapeños, chopped bell peppers, or even a layer of seasoned ground beef or shredded chicken.
Q: Can I make a healthier version of this dip?
A: Absolutely! If you're looking for a lighter option, consider using low-fat or Greek yogurt in place of sour cream. You can also opt for reduced-fat cheese and incorporate fresh, chopped vegetables like cucumber or bell peppers as additional layers.
Q: Can I make this dip spicy or mild?
A: The spiciness of the dip can be adjusted based on your taste preferences. If you prefer a milder version, choose a mild salsa or omit the diced jalapeños. For a spicier kick, use a hot salsa or add extra diced jalapeños or hot sauce to the layers.
Q: Can I double the recipe for larger gatherings?
A: Absolutely! This recipe can be easily doubled or multiplied to accommodate larger gatherings. Simply adjust the ingredient quantities accordingly and use a larger serving dish or multiple smaller dishes for layering.
Print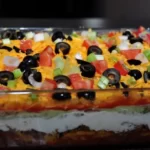 Mom's 7 Layer Dip
---
2 avocado, NS as to Florida or Californias avocados – peeled, pitted and diced
1 ½ tablespoons fresh lime juice
¼ cup chopped fresh cilantro
¼ cup salsa
garlic salt to taste
ground black pepper to taste
1 (8 ounce) container sour cream
1 (1 ounce) package taco seasoning mix
4 plum tomato (blank)s roma (plum) tomatoes, diced
1 bunch green onions, finely chopped
1 (16 ounce) can refried beans
2 cups shredded Mexican-style cheese blend
1 (2.25 ounce) can black olives – drained and finely chopped
---
Instructions
Step 1: In a medium bowl, mash the avocados. Mix in lime juice, cilantro, salsa, garlic salt and pepper.
Step 2: In a small bowl, blend the sour cream and taco seasoning.
Step 3: In a 9×13 inch dish or on a large serving platter, spread the refried beans. Top with sour cream mixture. Spread on guacamole. Top with tomatoes, green onions, Mexican-style cheese blend and black olives.