My grandma's ground beef casserole was delicious and so easy to make. I remember helping my mom chop the vegetables when I was little and then we would get to lick the spoon at the end. 🙂
This casserole is packed with flavor and perfect for a winter night! The ground beef is seasoned with garlic, onion, and Worcestershire sauce, then simmered in a rich tomato sauce. It's layered with creamy mashed potatoes and sharp Cheddar cheese, then baked to perfection.
Print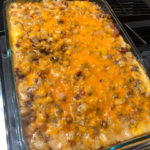 MY GRANDMA'S GROUND BEEF CASSEROLE
---
1 (8 oz.) package egg noodles
1 lb ground beef
1 tsp white sugar
2 (15 oz.) cans tomato sauce
1 (3 oz.) package cream cheese
1 c. sour cream
1 large white onion, diced
½ c. shredded sharp Cheddar cheese or more to taste
1 tsp salt
1 tsp garlic salt
---
Instructions
Step 1: Heat a large skillet on medium heat. Cook the beef for 5 to 7 minutes. Break up the meat as it cooks. Drain any excess grease once the beef is cooked.
Step 2: Add the sugar, salt and garlic salt to the ground beef. Stir well, and let it simmer for 20 minutes to combine. Remove the skillet from the heat. Cover the skillet. Let the mixture cool to room temperature.
Step 3: Boil the egg noodles in boiling water for 5 minutes. Let the noodles cool down a bit after draining.
Step 4: Prepare the oven Preheat it to 350° F or 175° C.
Step 5: Combine the cream cheese, sour cream and onion in a bowl.
Step 6: Place half the noodles in a 9×13-inch greased casserole dish and top it with half the sour cream mixture. Add half the ground beef to the sour cream mixture. Continue layering the remaining ingredients. Finally, top the casserole off with cheddar cheese.
Step 7: Bake the casserole for 25-30 minutes, or until the cheese is browned.
Notes
Nutrition:
Per Serving: 519 calories; protein 24.5g; carbohydrates 39.4g; fat 29.8g; cholesterol 120.1mg; sodium 1596.6mg.
Remember it later
Like this recipe! Pin it to your favorite board NOW!