No Bake Chocolate Mousse Pie. Picture this: rich and velvety chocolate mousse nestled in a dreamy chocolate-coated cookie crust, all crowned with a delicate cloud of whipped cream. And guess what? It's so easy to whip up, you'll wonder why you didn't make it sooner!
Planning ahead? Absolutely!
Embrace your inner party planner because you can absolutely prepare this delightful Chocolate Pie in advance. Pop it into the refrigerator for up to 2 days, and voilà – you've got a surefire hit on your hands! Perfect for any occasion – Easter, July 4th, Christmas, or just about any festivity that comes to mind.
Craving the freezer option?
Well, let me share a little secret: this chocolate pie recipe takes kindly to freezing. Just follow the assembly instructions, omitting the whipped cream topping. Wrap it snugly in plastic wrap, then wrap it again with foil, and into the freezer it goes – safe for up to 2 months.
When the moment strikes, pull out the frozen delight and let it thaw gracefully in the fridge for about 24 hours. When you're ready to serve, crown it with the whipped topping and decadent chocolate shavings, and let the applause begin!
Remember to store any remaining pie slices in the refrigerator – they'll happily keep for up to 48 hours, ensuring that the joy lingers just a little bit longer.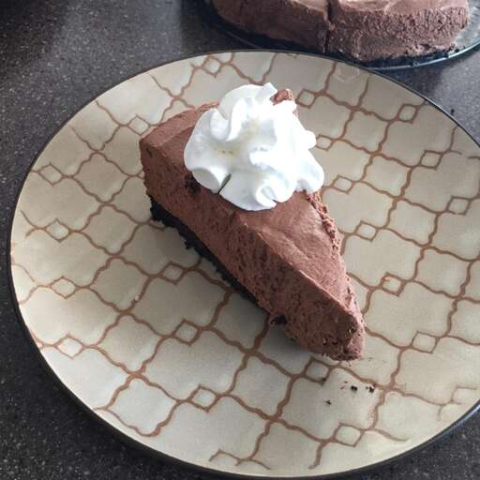 No Bake Chocolate Mousse Pie
Ingredients
Graham Cracker Pie Crust*
8 oz Cream Cheese, softened 1/4 cup Sugar 2 cups Milk Chocolate Chips 1/2 cup Heavy Cream 8 oz Whipped Topping
* For homemade pie crust...
1 1/2 cups Graham Cracker Crumbs 1/4 cup Sugar 4 T melted Butter
Instructions
Combine cream cheese and sugar in a large bowl. Mix until smooth and sugar is dissolved.
In a glass bowl, place chocolate chips and heavy cream and microwave 30 seconds at the time until melted. Whisk until smooth and combined. Let cool to room temperature.
Pour chocolate mixture into cream cheese mixture. Mix until combined. Add whipped topping and mix on low until combined and fluffy.
Pour into pie crust. Refrigerate for several hours or do a quick set in the freezer.
Garnish with more whipped topping and a few chocolate chips. 
* For homemade pie crust...
Combine and press into the bottom of a pie pan/plate. 
Nutrition Information:
Amount Per Serving:
Calories:

0
Total Fat:

0g
Saturated Fat:

0g
Trans Fat:

0g
Unsaturated Fat:

0g
Cholesterol:

0mg
Sodium:

0mg
Carbohydrates:

0g
Fiber:

0g
Sugar:

0g
Protein:

0g