When the weather is hot, I love to make cold desserts. Chocolate pie is one of my favorites and this no bake recipe is velvety and delicious – I also don't faint from heating the kitchen with the oven which is a wonderful thing!
The kids love this pie as well and they usually help me make the crust and the whipped cream which is so much fun! Also, they love to add the whipped cream and shaved chocolate. I enjoy teaching the kids how to create in the kitchen – like my mom did with me – and it is great bonding time!
Making this pie gluten free is great and doesn't require any different processes. When I make this for a cookout, I make it gluten free so everyone can enjoy – you cannot taste any difference.
Hot weather isn't the only time to enjoy this either! I have made it throughout the year, and it is fabulous in all its chocolate glory!
Notes:
• Freezing the Pie: You can freeze the pie – without the whipped topping – for up to 2 months – which means you can make an extra one and stash it away for when you need a quick dessert, or you need chocolate!
Wrap in plastic wrap and then with foil for a double layer. Freeze for up to 2 months. Let it thaw overnight in the fridge before serving.
• Storing the Pie: Cover loosely with plastic wrap – use toothpicks to keep it from squishing the whipped topping. Keep in the fridge for up to 4 days.
• Store-Bought Crust: If you use a store-bought pie crust, make sure you place in the freezer to get it very cold, and you will probably have leftover filling since these are not usually as deep.
• Shaved Chocolate Garnish: This makes for beautiful presentation. Choose a chocolate bar that is high quality chocolate and one with a higher percentage of cacao – it is firmer and easier to shave.
• Espresso Powder: Adding 1 tsp. of espresso powder with the chocolate when making the filling deepens the chocolate flavor. It is delicious but not required.
• Pie plate or Tart Pan: Make sure to use a deep-dish pie plate. A tart pan is another option and makes for a beautiful dessert. It also makes a graham cracker crust a little easier to cut.
• Cutting the Pie: If you run a sharp knife under hot water just before cutting the pie, the slices are smooth. Your first slice will likely crumble much like every other pie!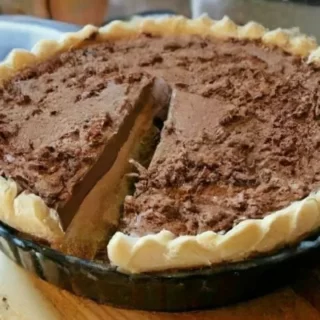 NO BAKE CHOCOLATE PIE
Ingredients
The Cookie Crust – Oreo or Graham Cracker
2 cups Oreo cookies or Graham Crackers (Regular or Gluten-Free) – crushed into crumbs 8 Tbsp. unsalted butter (1 stick) – melted
The Chocolate Ganache Filling
1 ¼ cups cane sugar ¼ cup cornstarch ¼ tsp. salt 3 cups whole milk or half and half (do not use lower fat percentages of milk, your chocolate filling mixture will not set up) 4 egg yolks, large 6 ½ oz. semi-sweet chocolate – chopped finely 2 tsp. bourbon vanilla extract or regular vanilla extract 2 Tbsp. butter – cut into smaller pieces
The Whipped Cream
1 ½ cups heavy whipping cream ¼ cup confectioners' sugar 1 tsp. vanilla extract
Garnish – optional
Shaved chocolate – Good quality
Instructions
Crust
In a blender or a food processor, add Oreos or Graham Crackers and pulse until the mixture becomes a wet powder resembling set sand. Alternatively, you can crush by hand in a large and sturdy Ziplock bag with a rolling pin.
Melt the ¼ cup butter and mix with the crumbs.
Press evenly into a 9-inch, deep dish pie plate, and put in the freezer to chill for at least 1 hour.
Filling
Combine sugar, cornstarch, and salt in a medium saucepan, whisk to combine.
Add milk/half and half and egg yolks, whisk until lighter in color.
Place pan over medium low to medium heat, stirring constantly until mixture barely reaches a simmer, becoming thick – this will take about 8 minutes (if the doubling the recipe it will take about 15 minutes).
It will take a bit, but will suddenly start getting thick, like pudding. This is when you remove from heat.
Stir in chopped chocolate, butter, and vanilla extract, stirring until smooth and combined.
Let mixture cool for about 15 minutes – whisk occasionally so a skin does not form on the top.
The Pie
Retrieve the crust from the freezer – it needs to be very cold.
Pour chocolate pudding mixture into pie crust and let sit for 10 minutes on the counter.
Place in fridge uncovered to chill and set for 4 hours or overnight.
Whipped Cream
Place mixing bowl and the whisk attachments for a hand mixer in the freezer for about 15 minutes.
Pour cold heavy whipping cream, confectioners' sugar, and vanilla extract into the mixing bowl.
Using a hand mixer fitted with cold whisk attachments, whip on high speed until stiff peaks form.
Cover the mixing bowl, or scoop into a piping bag with a tip, and store in the coldest spot in the fridge.
Assemble and Serve
When the pie is set and cold, pipe the whipped cream over the top and sprinkle shaved chocolate if desired.
You can also cut into slices and add whipped cream and shaved chocolate to each slice.
Serve immediately!
Nutrition Information:
Amount Per Serving:
Calories:

0
Total Fat:

0g
Saturated Fat:

0g
Trans Fat:

0g
Unsaturated Fat:

0g
Cholesterol:

0mg
Sodium:

0mg
Carbohydrates:

0g
Fiber:

0g
Sugar:

0g
Protein:

0g