Lemon desserts hold a special place in my heart! It may be a family thing because both my grandmother and my mom made lemony desserts on a regular basis. The bright smell and tartness of lemons makes me feel happy and content which makes this cheesecake perfect.
This cheesecake is not a traditional cheesecake – it is really an icebox cake. The texture is not dense like cheesecake but light, silky, and a little bit fluffy. Also, you don't bake it which is a blessing when the weather is hot!
I love recipes that have historical roots, and this is one. Some people, including myself, will remember the iconic Woolworth's stores and its lunch counter where you could get burgers, milkshakes, and a piece of this cheesecake. I have fond memories of going there with my dad!
Notes:
* If you don't have, or don't like, graham crackers, great alternatives are crushed vanilla wafers or crumbled vanilla sandwich cookies.
* It is important to chill the evaporated milk because it plays a big part in the texture. If you happen to forget (I have forgotten countless times!) put the can in the freezer for 30 minutes. Also, use the regular evaporated milk, not the lower fat varieties. Those will not work.
* STORING OPTIONS:
FREEZE – Chill the cheesecake in the refrigerator overnight, or until well set. Then, wrap it well with plastic wrap and then wrap in aluminum foil. It will keep for up to 3 months. To thaw, place frozen cheesecake in the refrigerator overnight.
REFRIGERATE – Cover pan tightly with plastic wrap or aluminum foil or place cheesecake in an airtight container. It will keep for up to 5 days.
Print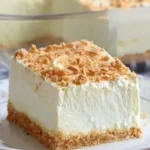 NO BAKE CLASSIC WOOLWORTH CHEESECAKE
---
Crust
2 cups graham cracker crumbs (more for thicker crust)
1/2 cup (one stick) butter – melted
Filling
1 3oz box of lemon Jell-O
1 cup boiling water
8 oz. cream cheese – room temperature
1 cup granulated sugar
5 Tbsp. fresh lemon juice
1 can regular evaporated milk (14 ½ oz.), well chilled or 1 1/2 cups heavy whipping cream
Topping
1 cup crushed graham crackers
---
Instructions
In a heat-proof bowl, dissolve lemon Jell-O in boiling water. Cool until slightly thickened. Set aside.
Mix 2 cups graham cracker crumbs and melted butter until well blended, press into bottom of the 9 X 13 pan to form a crust. Set aside.
Using a mixer, beat the cold evaporated milk (or heavy whipping cream) until fluffy. Set aside.
In a separate bowl, beat cream cheese, sugar, and lemon juice with mixer until smooth. Pour in the slightly thickened lemon Jell-O and beat really well. Add the whipped evaporated milk and mix until combined.
Spread filling evenly over the crust and sprinkle 1 cup of graham cracker crumbs over the top.
Chill at least 2 hours, it should be well set, then slice and serve. Cover when storing in the refrigerator.