Let's talk about the Old Classic Fashioned Goulash, a mouthwatering delicacy that brings back a wave of nostalgia. This recipe combines macaroni, ground beef, Worcestershire sauce, cheddar cheese, and other delectable ingredients.
For me, this old classic fashioned goulash holds a special place in my heart as one of the most delicious and cherished old-fashioned meals I've ever tasted. It's a recipe that has been passed down through generations, and I know the ins and outs of preparing and cooking it like the back of my hand. This hearty dish is perfect for a family treat any night of the week. It's unique, with flavors that truly stand out and an aroma that fills the kitchen. The best part is that it takes less than an hour to prepare, with simple steps that anyone can follow.
I remember the first time I attempted this recipe. I was filled with a mix of excitement and nervousness, as it was meant to be the centerpiece for our family dinner. I worried that if I made a mistake, we would end up with empty stomachs and a disappointing meal. But I reached out to my mom for guidance, and she gave me a brief description of how to bring this recipe to life. With her guidance, I dove in, and before I knew it, I had created a masterpiece.
I was pleasantly surprised by how perfectly it turned out, as if I had been preparing this recipe for years. Ever since that moment, it has become the go-to meal for my family, especially after our Sunday thanksgiving service. We gather around the table, breaking old classic fashioned goulash just as we break bread in church, savoring every bite and cherishing the love and memories it brings.
This recipe holds a special place in my heart, and I'm sure it will become a beloved favorite in your household as well. Embrace the tradition and enjoy the comforting flavors of old classic fashioned goulash.
Prep time: 15 minutes
Cook time: 30 minutes
Total time: 45 minutes
Servings: 4 servings
Print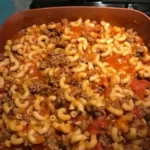 Old Classic Fashioned Goulash
---
1 pound elbow macaroni
2 pounds ground beef
1 onion, finely chopped
3 cloves garlic, minced
1 Tbsp worcestershire sauce
2 cans tomato sauce
2 cans petite diced tomatoes
1 ½ Tbsp Italian seasoning
2 tsp salt
½ tbsp black pepper
1 cup cheddar cheese, shredded
---
Instructions
Step 1:
Preheat the oven to 350 degrees Fahrenheit. Pour water into a large pot and let it boil. Then cook the macaroni for 3 minute less than the box directions and drain well.
Step 2:
Heat a large skillet over high heat, then add the ground beef and onions to the pan. Break beef apart and allow to cook for about 6-7 minutes until it is brown, then drain the fat.
Step 3:
Mix in garlic and allow to cook for 1 minute until fragrant. Then add in worcestershire sauce, tomato sauce and diced tomatoes and mix well until it is well combined.
Step 4:
Add and stir in Italian seasoning, salt and pepper, you can adjust by tasting the recipe.
Step 5:
Mix in cooked macaroni and cheddar cheese. You can place in the oven for 20-25 minutes until bubbly and cheese is melted or transfer to a casserole dish and bake.
Step 6:
Remove from the oven and serve.
Notes
Nutritional facts
Amount Per Serving:
Calories: 500 Kcl, Total Fat;: 26g, Saturated Fat: 10g, Trans Fat: 1g, Unsaturated Fat: 11g, Cholesterol: 115mg, Sodium: 1397mg, Carbohydrates: 28g, Fiber: 4g, Sugar: 6g, Protein: 39g