Pure comfort that is perfect when the weather begins to cool and cold nights set in. It is also superb other times of year, but Autumn/Winter are the times when this old-fashioned beef stew will warm your soul!
The smell of beef stew simmering on the stove always brings my family to the kitchen not to ask what I am making, but to ask when dinner will be ready. This recipe is beautiful in its simplicity – simple ingredients but robust in flavor. I love having leftovers because it gets better the next day and even better the day following.
This beef stew really doesn't need anything served with it but you can always make a simple salad and have rolls or bread. We love to have a crusty baguette to dunk in the stew – you really should try this because it is amazing!
Enjoy!
Notes:
• Prepping the ingredients the day before will reduce the amount of time you spend making the stew. Peel, cut, and chop your vegetables and store them in a Ziploc bag. You can even double the batch and freeze half for an even quicker prep next time.
• To keep prepped potatoes from turning brown, store those in the freezer.
• If you have a roast instead of pre-cut chuck, trim and portion it before storing in a Ziploc bag in the fridge.
• Variations: Adding/Substituting other root vegetables adds wonderful flavor. Parsnips, turnips, rutabaga, and sweet potatoes are delicious.
• Seasonings: Tailor the seasonings to your preferences – thyme is a popular herb to add to beef stew.
• Freezing: Once cooled, transfer the beef stew into an airtight container and freeze up to three months.
Print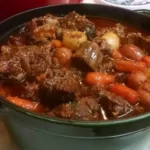 OLD FASHIONED BEEF STEW
---
2 lbs. cubed beef stew meat
3 Tbsp. vegetable oil (choose an oil with a high smoke point)
4 tsp. beef bouillon base (I use Better than Bouillon – if using another type, use amount appropriate to 4 cups of water)
4 cups of water
1 tsp. dried rosemary
1 tsp. dried parsley
1/2 tsp. ground black pepper
3 large potatoes – cubed (also peeled if you prefer) Yukon Gold are my favorite!
4 carrots – cut into 1-inch pieces
4 stalks celery – cut into 1-inch pieces
1 large onion – chopped
2 tsp. cornstarch
2 tsp. cold water
---
Instructions
Add the oil to a Dutch Oven, or a large, heavy-bottom pot. I prefer cast iron.
When oil is hot, cook the beef in batches over medium or medium high heat until brown. Keep at medium if your pan is too hot and beef is starting to get dark too quickly.
Cook in batches so you only have an even layer of beef browning at a time. Don't overcrowd the pot.
Make sure you brown all sides of the beef. Move to a plate while cooking the rest.
When the beef is all browned, dissolve the beef bouillon base in hot water and then add to the pot.
Carefully place the beef back into the pot, with any juices on the plate.
Add the rosemary, parsley, and ground pepper.
Bring everything to a boil before reducing the heat to a low simmer and covering with the lid.
Leave the beef to simmer for an hour, checking occasionally and stirring to prevent sticking.
While the beef is simmering, wash and cut the vegetables. Be careful not to cut them too small, so that they keep their form after cooking and don't turn to mush.
In a small bowl, make a slurry using the cornstarch and 2 teaspoons of water. Whisk together until smooth.
After the beef has simmered one hour, add the vegetables and the slurry, stirring well to combine.
Cover the pot and let simmer for another hour, stirring occasionally.