Old-Fashioned Peach Cobbler recipe. The delightful combination of sweet, syrupy peaches and a golden, cake-like topping makes this dessert a cherished classic. Whether served at family gatherings or enjoyed on quiet evenings, this cobbler embodies the essence of comforting homemade goodness.
Why You'll Love This Recipe:
This Peach Cobbler is not just a dessert; it's a journey back in time. Its simplicity harks back to a bygone era of baking, where the most exquisite flavors came from the purest ingredients. The aroma of cinnamon and vanilla infuses your kitchen, inviting everyone to gather around for a taste of the past. Plus, the ease of preparation ensures you can relish the joy of homemade cobbler without any fuss.
Recipe Tips and Variations:
Whipped Cream Wonder: Serve each warm slice with a dollop of freshly whipped cream or a scoop of vanilla ice cream.
Fruit Medley: Experiment with a mix of peaches, apricots, or even a handful of berries for a delightful twist.
Nutty Crunch: Add a layer of chopped pecans or almonds to the topping for a satisfying crunch.
Why This Old-Fashioned Peach Cobbler Stands Out:
Generational Charm: It's a recipe that has stood the test of time, passed down through generations, and cherished by all who taste it.
Mouthwatering Aesthetics: The golden-brown crust, adorned with a sprinkling of cinnamon-sugar, is as visually appealing as it is delicious.
Comfort in Every Bite: Each mouthful evokes a sense of comfort and warmth, like a culinary hug from Grandma.
What to Serve With This Recipe:
Enjoy this Peach Cobbler on its own for a delightful dessert experience, or pair it with a scoop of vanilla ice cream for an extra layer of indulgence.
Remember it later
Like this recipe! Pin it to your favorite board NOW!
Print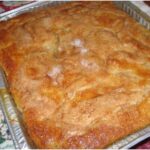 Old-Fashioned Peach Cobbler
---
Author:

Total Time:

1 hour

Yield:

4

-

6

Servings

1

x
1/2 stick butter
1 (28-ounce) can peaches, undrained
3 cups sugar, divided
1/2 teaspoon cinnamon
1 1/4 cups water
1 heaping tablespoon cornstarch
1 1/2 cups self-rising flour
2 teaspoons vanilla
Milk, as needed
---
Instructions
Preheat your oven to 350°F.
Melt half a stick of butter and use it to generously grease a 13×9-inch metal baking pan. Leave any remaining butter in the pan to enhance the cobbler's richness.
Prepare the Peach Filling:
In a heavy saucepan, combine the canned peaches with their liquid, 1 cup of sugar, and 1/2 cup of water. Bring the mixture to a gentle boil.
Create the Cornstarch Slurry:
In a small bowl, combine 3/4 cup of water and 1 heaping tablespoon of cornstarch. Add this slurry to the peach mixture, stirring well. Bring it back to a boil and allow it to thicken. Remove from heat.
Prepare the Batter:
In a mixing bowl, combine 1 1/2 cups of sugar, 1 1/2 cups of self-rising flour, 2 teaspoons of vanilla, and enough milk to create a thin batter. The consistency should be slightly thinner than pancake batter.
Assemble and Bake:
Pour the hot peach mixture into the prepared pan with melted butter. Then, pour the batter evenly over the peach mixture.
Final Touch:
In a small bowl, mix 1/2 cup of sugar with 1/2 teaspoon of cinnamon. Sprinkle this cinnamon-sugar mixture generously over the batter.
Baking Magic:
Bake the cobbler in the preheated oven for 30 minutes or until the top is golden brown and inviting.
Serve with Love:
Allow the cobbler to cool slightly before serving. For an extra touch of indulgence, serve warm slices with a scoop of vanilla ice cream or a dollop of freshly whipped cream.
Prep Time:

15 minutes

Cook Time:

45 minutes
Remember it later
Like this recipe! Pin it to your favorite board NOW!