Super delicious salad. Will leave everyone salivating as you dig into this heaven-like delicacy
Why don't you give your mouth a taste of heaven with this delicious old-fashioned potato salad. This salad can be garnished in different ways, and an adequate amount of chili will make your taste buds dance.
This sweet delicacy is super easy to and inexpensive to prepare, taking you just an hour to get your family lauding your culinary skills.
Serving Tips:
·You can decide to serve cold or hot depending on how best you'd love the taste.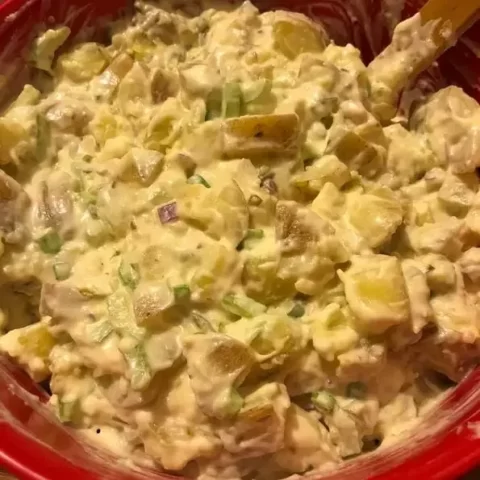 Old fashioned potato salad
Ingredients
5 potatoes
3 eggs
1 cup of chopped celery
½ cup of chopped onion
½ cup of sweet pickle relish
¼ teaspoon garlic salt
¼ teaspoon celery salt
1 teaspoon prepared mustard
Grounded black pepper to taste
¼ cup of mayonnaise
Instructions
Step 1:
Pour salt into a large water to boil. Add the potatoes and cook until it is soft. You can cook for 15 minutes, drain, leave it to cool, peel and chop it.
Step 2:
Boil the eggs for about 10-12 minutes. Remove it, leave it to cool, peel and chop it.
Step 3:
Combine the potatoes, eggs, celery, onion, garlic salt, relish, mustard, celery salt, pepper and mayonnaise. Mix the ingredients well and refrigerate. You can serve when it is chilled.
Nutrition Information:
Amount Per Serving:
Calories:

0
Total Fat:

0g
Saturated Fat:

0g
Trans Fat:

0g
Unsaturated Fat:

0g
Cholesterol:

0mg
Sodium:

0mg
Carbohydrates:

0g
Fiber:

0g
Sugar:

0g
Protein:

0g