A homemade version of the famous Olive Garden chicken and Gnocchi soup. This bit is every bit as creamy and delicious as the original. Plus, it's super easy and quick to prepare.
Olive Garden Chicken Gnocchi Soup copycat is every bit as creamy and delicious as the restaurant version, made in less than 30 minutes!
I've never met anyone that didn't love Olive Garden. I mean, what's there not to love? They have some of the nicest recipes in the whole country. One of their most standout recipes is their chicken and gnocchi soup, which I can never get enough of. Quite frankly, I could say I'm maybe a little addicted to it.
There's a copycat version of virtually every Olive Garden recipe – from their Italian salad dressing to their toasted ravioli. As good as it feels to have these recipes from Olive Gardens, I can think of a few reasons why people would want homemade versions. First, it's more budget-friendly to eat at home. Second, you can make as much as you like and have leftovers to eat again whenever you feel like it. Homemade meals are also excellent for when you want to feed a crowd, and knowing these recipes comes in handy when you're far away from an Olive Garden.
Copycat Olive Garden Chicken and gnocchi soup is just as good as the original. Quite frankly, it's sometimes even better. Gnocchi soup is an awesome combination of potatoes, flour and eggs. It's a genius recipe that comes together very quickly, with insanely amazing results. This recipe is one that you must put on your to-cook list. Make it for any family dinner on the weekend, or when you have friends and family over. They'll definitely appreciate it.
Prep time: 15 minutes
Cook time: 25 minutes
Total time: 40 minutes
Yield: 4 servings
Print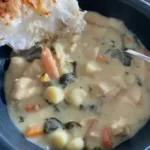 Olive Garden Copycat Chicken & Gnocchi Soup
---
4 boneless skinless chicken breasts, cooked and diced
1 stalk of celery, chopped
½ white onion, diced
2 teaspoons minced garlic
½ cup shredded carrots
1 tablespoon olive oil
4 cups low sodium chicken broth
salt and pepper
1 teaspoon thyme
16 ounces potato gnocchi
2 cups half and half
1 cup fresh spinach, roughly chopped
---
Instructions
Step 1:
Heat olive oil in a large pot over medium heat. Add celery, onions, garlic, and carrots and saute for 2-3 minutes until onions are translucent.
Step 2:
Add chicken, chicken broth, salt, pepper, and thyme, and bring to a boil. Then gently stir in the gnocchi. Boil for 3-4 minutes longer before reducing heat to a simmer and cooking for 10 minutes.
Step 3:
Stir in half and half and spinach and cook another 1-2 minutes until spinach is tender. Add extra salt and pepper if needed, then take down and serve.
Notes
Nutrition
Calories: 523 kcal, Carbohydrates: 52 g, Protein: 31 g, Fat: 22 g, Saturated Fat: 11 g, Trans Fat: 1 g, Cholesterol: 99 mg, Sodium: 622 mg, Potassium: 799 mg, Fiber: 4 g, Sugar: 2 g, Vitamin A: 3859 IU, Vitamin C: 7 mg, Calcium: 184 mg, Iron: 5 mg