Orange Creamsicle Fudge recipe. The fudge is creamy and smooth, but it tastes like you're biting into a slice of the ice cream bar. You can use any flavor of orange yogurt and any flavor of vanilla ice cream to get the same sweet, citrusy taste.
If you're looking for a delicious and easy-to-make fudge recipe, look no further than this Orange Creamsicle Fudge Recipe! This fudge is perfect for summer, as it tastes just like the childhood favorite ice cream flavor. Made with just a few simple ingredients, this recipe is sure to be a hit with the whole family.
Notes:
This recipe is so easy and only requires a few ingredients that you probably already have in your pantry. The hardest part is waiting for the fudge to set! I like to make this recipe in the summer because it reminds me of my childhood and eating orange creamsicles on a hot day.
Conclusion & Recipe:
Serves: 12
prep time: 5 minutes
cooking time: 3 hours.
Print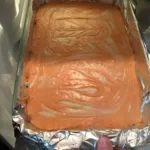 ORANGE CREAMSICLE FUDGE RECIPE: MAKE IT TASTE LIKE A CHILDHOOD FAVORITE
---
White chocolate chips 16 oz (see note).
1 can vanilla frosting
2 teaspoons orange extract
Food coloring with orange
---
Instructions
Use nonstick spray to grease an 8×8 inch baking pan and then line it with parchment paper. Set aside.
Combine white chocolate chips with vanilla frosting in a large bowl. Microwave for 30 seconds, stirring every so often.
Mix in the orange extract. Transfer a third of this mixture to a separate bowl.
Mix together food coloring until you get the desired orange color.
Place the orange mixture in a pan. Then, pour the white mixture on top. You can swirl the colors with a toothpick or butter knife, but not all at once.
Keep in the refrigerator until set. Slice the fudge and lift it out of parchment paper. Enjoy!
Use 16 oz. Use 19 oz if you are using white chocolate with cocoa butter.