Prep: 20 mins | Additional: 1 hr | Total: 1 hr 20 mins | Servings: 20 | Yield: 20 servings
Layers of amazing flavors! This Lemon Berry Trifle will make your day cool, literally! It is a very refreshing treat to eat on a sunny day. If you are having guests today, it is not too late to try this recipe. I am sure that once they get a bite of this fruity dessert, they would want to eat the whole thing so make sure to make enough to satisfy their craving! By the way, I only use fresh ingredients for quality purposes. It would taste a lot better if you use fresh ones.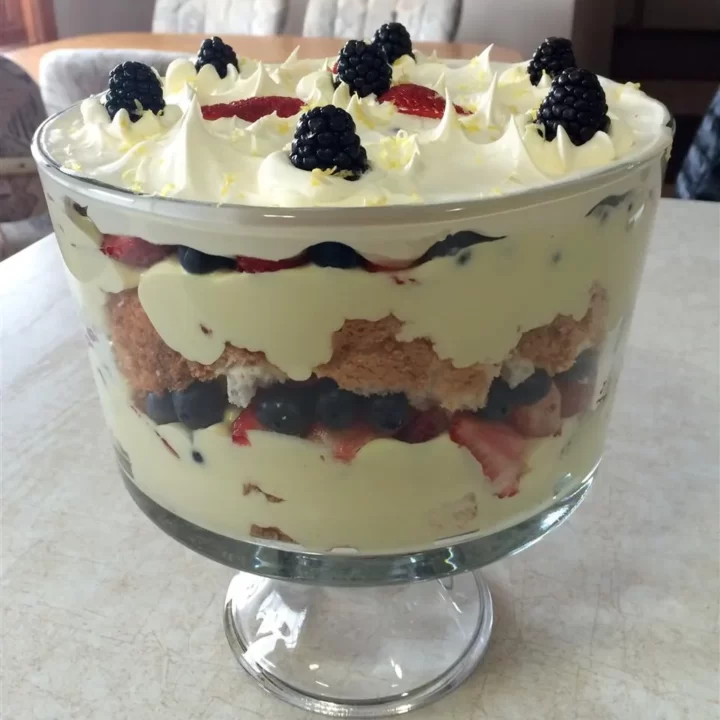 OUTRAGEOUS LEMON BERRY TRIFLE
Ingredients
2 cups heavy whipping cream
2 cups of milk
2 (3.4 ounce) packages instant lemon pudding mix
2 tablespoons lemon juice
2 cups heavy whipping cream
¾ cup confectioners' sugar
1 dash vanilla extract
1 (9 inches) angel food cake, cubed
3 cups sliced fresh strawberries
2 cups fresh blueberries
Instructions
Step 1: In a large mixing bowl, add in 2 cups of whipping cream, lemon pudding mixes, lemon juice, and milk. Whisk until well mixed and the texture becomes smooth.
Step 2: Cover with plastic wrap and place inside the fridge for at least 1 hour or until set.
Step 3: In another large mixing bowl, add in the rest of the whipping cream. Beat until well mixed and bubbly.
Step 4: Slowly add vanilla extract and confectioners' sugar and beat until well mixed.
Step 5: Whisk upright for the whipped cream to form sharp peaks.
Step 6: Arrange ½ of the angel food cake layer into a trifle bowl.
Step 7: Place a layer about ½ of the lemon pudding, ½ of the strawberries, and ½ of the blueberries on top of the cake layer.
Step 8: Top the blueberries with ½ of the whipped cream.
Step 9: Repeat this procedure until all the ingredients are arranged in layers.
Step 10: Cover with plastic wrap and place inside the fridge until set.
Step 11: Serve and enjoy!
Notes
Nutrition Facts:
Per Serving: 291.3 calories; protein 3.1g 6% DV; carbohydrates 30.2g 10% DV; fat 18.4g 28% DV; cholesterol 67.2mg 22% DV; sodium 282.7mg 11%
Nutrition Information:
Amount Per Serving:
Calories:

0
Total Fat:

0g
Saturated Fat:

0g
Trans Fat:

0g
Unsaturated Fat:

0g
Cholesterol:

0mg
Sodium:

0mg
Carbohydrates:

0g
Fiber:

0g
Sugar:

0g
Protein:

0g