Sheet pan dinners are the best – quick, easy, and the clean up takes only minutes. I found this recipe when I was looking for something new to make with smoked sausage. My whole family raved at how delicious it was and now I make it often.
To make it a little different, I have added or substituted ingredients and each variation has been fabulous. There are ideas are in the Notes section! I love to grow herbs and sometimes I pick one or two and add with the parsley. However, we still love this original recipe and I think you will too!
Notes
• Leftovers are great and make quick lunches and you can divide servings into individual containers. This will keep for about 3-4 days. Reheat as desired or enjoy cold.
• While this does not freeze well, it can easily be doubled if you want to have leftovers, but you never have any because everyone loves it so much!
Variations
Brussel sprouts are great to add to the mix. Wash them, cut each in half, and throw them in with the sausage, onion, and potatoes.
Add these during last 20 minutes – Cherry tomatoes, banana peppers, asparagus, and/or broccoli.
Use lime juice instead of lemon juice. Also, increase the lemon/lime juice if you like.
Carrots and sweet potatoes add a touch of sweet which goes well with the saltiness of the sausage and the savory vegetables.
Use another dried herb instead of thyme. Rosemary works nicely as a substitute. Also, chopping fresh herbs and adding those with the parsley is lovely and adds wonderful flavor.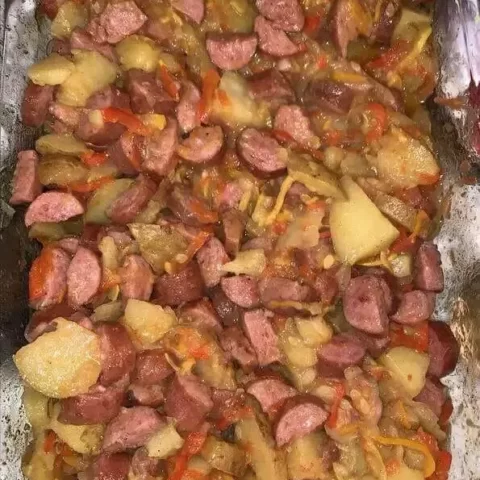 Oven Roasted Smoked Sausage and Potatoes
Ingredients
1 lb. smoked sausage – sliced in round pieces
1 large sweet yellow onion – sliced or chopped
1 pound baby yellow and/or red potatoes – washed and cut into ½ inch cubes
3-4 Tbsp. extra virgin olive oil
½ tsp. kosher salt
1 tsp. dried thyme
2 tsp. paprika
¼ tsp. black pepper
2-3 tsp. fresh lemon juice
2 Tbsp. fresh chopped parsley
Instructions
Preheat the oven to 400*F.
Line a large baking tray (with sides) with either parchment paper or foil, and spray with cooking spray. Set aside.
Put the sausage rounds, onions, and potatoes into a large bowl.
Drizzle olive oil over the mixture and season to taste with salt, pepper, paprika, dried thyme, and lemon juice. Toss together with your hands until everything is evenly coated with oil and seasonings.
Pour the mixture onto the baking tray and spread it out as evenly as you can.
Place into the heated oven and roast for 45 minutes to an hour, stirring every 15 minutes or so, until the potatoes are golden brown and tender.
Remove from the oven, sprinkle with the parsley, and serve!
Nutrition Information:
Amount Per Serving:
Calories:

0
Total Fat:

0g
Saturated Fat:

0g
Trans Fat:

0g
Unsaturated Fat:

0g
Cholesterol:

0mg
Sodium:

0mg
Carbohydrates:

0g
Fiber:

0g
Sugar:

0g
Protein:

0g