this Pecan Pie Cheesecake recipe. Combining the rich flavors of traditional pecan pie with the creamy goodness of cheesecake, this dessert offers a delightful contrast of textures and tastes. The buttery graham cracker crust provides the perfect foundation for the velvety cheesecake layer, while the stovetop pecan pie filling, enriched with bourbon and maple syrup, crowns this dessert with a decadent finish. Whether served chilled or at room temperature, each slice of this Pecan Pie Cheesecake is a symphony of flavors that will delight your taste buds and impress your guests.
Why You'll Love This Recipe:
This Pecan Pie Cheesecake marries the best of both worlds: the silky smoothness of cheesecake and the comforting richness of pecan pie. The graham cracker crust adds a delightful crunch, while the pecan pie filling brings a sweet, nutty, and slightly boozy flavor. This dessert is perfect for special occasions, holiday gatherings, or simply when you crave an indulgent treat. The recipe is detailed yet straightforward, allowing you to create a show-stopping dessert with ease.
Recipe Tips and Variations:
Bourbon Infusion: The addition of bourbon lends a warm and slightly smoky flavor to the pecan pie filling. Adjust the amount of bourbon to your preference or omit it entirely for a non-alcoholic version.
Roasted Pecans: Roasting the pecans before adding them to the filling enhances their natural flavor and adds a delightful crunch. Be cautious not to over-roast; they should be fragrant and lightly golden.
Graham Cracker Crust: Press the graham cracker crust firmly into the pan to create a stable base for the cheesecake. Chilling the crust before adding the filling helps it set properly.
Serving Suggestions: Garnish the finished cheesecake with whipped cream, a drizzle of caramel sauce, or a dusting of powdered sugar for an elegant presentation. Serve alongside a scoop of vanilla ice cream or a dollop of whipped cream for an extra indulgent experience.
Why This Pecan Pie Cheesecake Stands Out:
Dual Delight: By combining the beloved flavors of pecan pie and cheesecake, this dessert caters to a wide range of tastes, making it a versatile and crowd-pleasing choice.
Textural Harmony: The crunchy graham cracker crust, creamy cheesecake layer, and nutty pecan pie filling create a harmonious blend of textures, offering a delightful mouthfeel with every bite.
Decadent Presentation: With its luscious pecan topping and elegant appearance, this Pecan Pie Cheesecake is a visually stunning dessert that effortlessly takes center stage on any dessert table.
What to Pair With This Cheesecake:
Complement the richness of this Pecan Pie Cheesecake with a refreshing cup of Earl Grey Tea, its subtle bergamot flavor cutting through the sweetness. Alternatively, serve it alongside a steaming cup of French Press Coffee, its robust and aromatic profile balancing the dessert's indulgent notes. For a festive touch, prepare a batch of Spiced Chai Latte, its warm spices harmonizing beautifully with the dessert's flavors, creating a delightful contrast.
Remember it later
Like this recipe! Pin it to your favorite board NOW!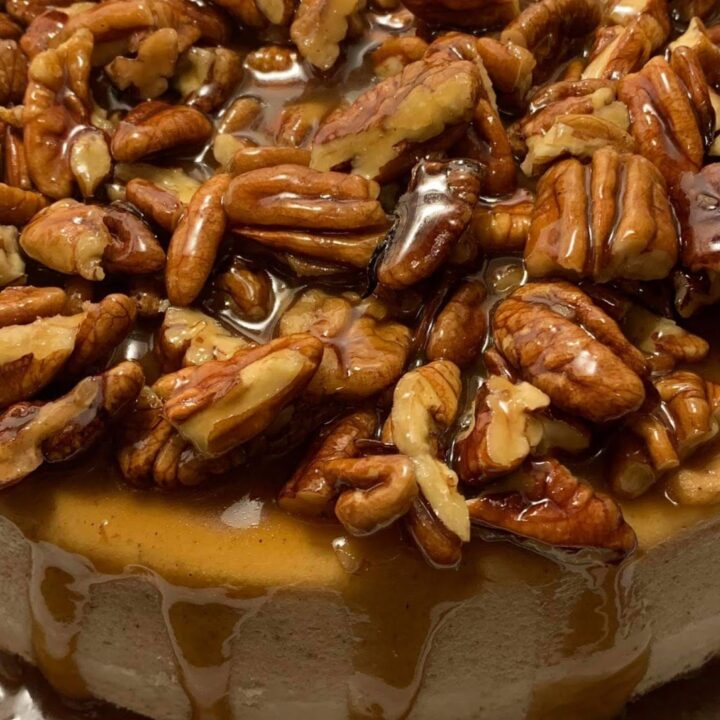 PECAN PIE CHEESCAKE
Ingredients
2 cups graham cracker crumbs
⅓ cup melted butter
16 oz cream cheese, at room temperature
¾ cup sugar
¼ cup milk
½ cup sour cream
2 tablespoons flour
3 teaspoons bourbon whiskey, divided
2 eggs
1 cup dark brown sugar
¼ cup cornstarch
½ teaspoon salt
4 egg yolks
⅔ cup maple syrup or dark corn syrup
½ cup warm cream
4 tablespoons cold butter
2 cups roasted pecans, chopped
Whole roasted pecans, to serve
Instructions
Preparing the Graham Cracker Crust:
In a bowl, combine the graham cracker crumbs and melted butter. Stir until the crumbs are evenly coated with butter.
Press the mixture into the bottom and halfway up the sides of a 9-inch (23 cm) springform pan. Chill the crust in the refrigerator while preparing the filling.
Creating the Cheesecake Layer:
In a large bowl, beat the cream cheese, sugar, and milk until fluffy and fully incorporated.
Add the sour cream, flour, 2 teaspoons of bourbon, and eggs. Mix until the filling is smooth and creamy.
Pour the cheesecake filling into the chilled graham cracker crust.
Baking the Cheesecake:
Bake the cheesecake in a preheated oven at 325°F (170°C) for approximately 1 hour, or until the cheesecake no longer jiggles. Remove it from the oven and allow it to cool while preparing the pecan pie filling.
Preparing the Pecan Pie Filling:
In a bowl, combine the brown sugar, cornstarch, and salt. Stir the mixture and pour it into a medium saucepan over low heat.
Add the egg yolks, maple syrup, and warm cream. Whisk until smooth and cook on low heat until the mixture thickens, resembling a pudding (approximately 5-10 minutes).
Remove the saucepan from the heat and stir in the cold butter and the remaining teaspoon of bourbon. Whisk until fully emulsified.
Allow the pecan pie filling to cool to room temperature.
Fold in the roasted, chopped pecans.
Assembling the Pecan Pie Cheesecake:
Spread the pecan pie filling evenly over the baked and cooled cheesecake.
Optionally, garnish the top with additional chopped pecans or arrange whole roasted pecans for a decorative touch.
Chilling and Serving:
Refrigerate the Pecan Pie Cheesecake until it is completely set.
Prior to serving, slice the cheesecake and serve it chilled or at room temperature, allowing your guests to savor the delightful flavors of pecan pie and cheesecake in each delectable bite.
Notes
This Pecan Pie Cheesecake is a sumptuous dessert that marries the classic charm of pecan pie with the velvety allure of cheesecake. Its decadent layers and rich flavors make it a standout dessert for any occasion. Whether served as the grand finale to a festive dinner or as a delightful treat for a casual gathering, this dessert captivates the senses and leaves a lasting impression. Enjoy the union of creamy cheesecake, buttery graham cracker crust
Nutrition Information:
Amount Per Serving:
Calories:

0
Total Fat:

0g
Saturated Fat:

0g
Trans Fat:

0g
Unsaturated Fat:

0g
Cholesterol:

0mg
Sodium:

0mg
Carbohydrates:

0g
Fiber:

0g
Sugar:

0g
Protein:

0g
Remember it later
Like this recipe! Pin it to your favorite board NOW!