Pecan Tarts, a classic treat that marries the richness of pecans with a buttery, melt-in-your-mouth pastry. These mini tarts, each a perfect bite-sized morsel, are crafted with care and precision. The golden crust cradles a filling made with eggs, brown sugar, vanilla, and a generous portion of pecans, creating a nutty symphony of flavors in every bite. Whether you're preparing these tarts for a holiday gathering, a special occasion, or simply to treat your taste buds, their irresistible charm and nutty richness are sure to make them an instant favorite. Get ready to savor the perfect balance of sweetness and crunch in these homemade Pecan Tarts.
Why You'll Love This Recipe:
These Pecan Tarts are the epitome of indulgence in a miniature form. Here's why you'll fall in love with these delectable treats:
Nutty Perfection: Pecans, renowned for their buttery texture and rich taste, are the star of these tarts. The combination of crunchy pecans and the gooey, caramel-like filling creates a delightful contrast of textures and flavors.
Buttery Pastry: The buttery, flaky pastry serves as the ideal vessel for the pecan filling. Each tart boasts a perfect balance of textures, ensuring a delightful experience with every bite.
Perfectly Portioned: These mini tarts are perfectly portioned, making them an excellent choice for parties, gatherings, or dessert platters. Their bite-sized nature allows guests to enjoy the exquisite flavors without overwhelming their taste buds.
Versatile Elegance: Pecan Tarts effortlessly blend rustic charm with elegant flavors. They're equally suited for casual family gatherings and upscale events, adding a touch of sophistication to any dessert spread.
Recipe Tips and Variations:
Toasted Pecans: For enhanced flavor, consider toasting the pecans before incorporating them into the filling. Toasting intensifies their natural oils, resulting in a richer taste and aroma.
Flour Dusting: When pressing the pastry into the muffin tins, lightly dust your fingers with flour to prevent sticking. This ensures a smooth and even crust in each tart.
Pecan Varieties: Experiment with different pecan varieties, such as halves or pieces, to customize the texture of your tarts. Coarsely chopped pecans offer a heartier bite, while pecan halves add an elegant touch.
Cinnamon Infusion: For a subtle warmth, consider adding a pinch of ground cinnamon to the filling. Cinnamon beautifully complements the nuttiness of pecans and adds a hint of spice to the tarts.
Why These Pecan Tarts Stand Out:
Nutty Indulgence: These Pecan Tarts celebrate the exquisite flavor of pecans, allowing their natural richness to shine. The filling, generously studded with pecans, ensures that every bite is a symphony of nutty bliss.
Timeless Appeal: Pecan Tarts embody the timeless appeal of classic desserts. Their simplicity and exceptional taste make them a beloved choice across generations, capturing the hearts of dessert enthusiasts young and old.
Handcrafted Excellence: Crafted with care and precision, these tarts represent the artistry of homemade desserts. Each element, from the flaky pastry to the nut-filled center, is a testament to the beauty of handcrafted delicacies.
Irresistible Charm: Miniature in size yet grand in flavor, these Pecan Tarts exude irresistible charm. Their elegant appearance and delectable taste make them a standout dessert, drawing admirers with their inviting aroma and delightful crunch.
What to Pair With These Pecan Tarts:
Pair these Pecan Tarts with a dollop of freshly whipped Vanilla Bean Cream, its velvety richness enhancing the nutty flavors of the tarts. For a delightful contrast, serve alongside a scoop of Butter Pecan Ice Cream, its creamy texture and nut-studded profile offering a cool and indulgent experience. Complete the dessert ensemble with a drizzle of Warm Salted Caramel Sauce, its sweet and salty notes harmonizing with the pecans. Enjoy the sheer delight of these Pecan Tarts, where each bite is a celebration of nutty elegance and homemade perfection.
Remember it later
Like this recipe! Pin it to your favorite board NOW!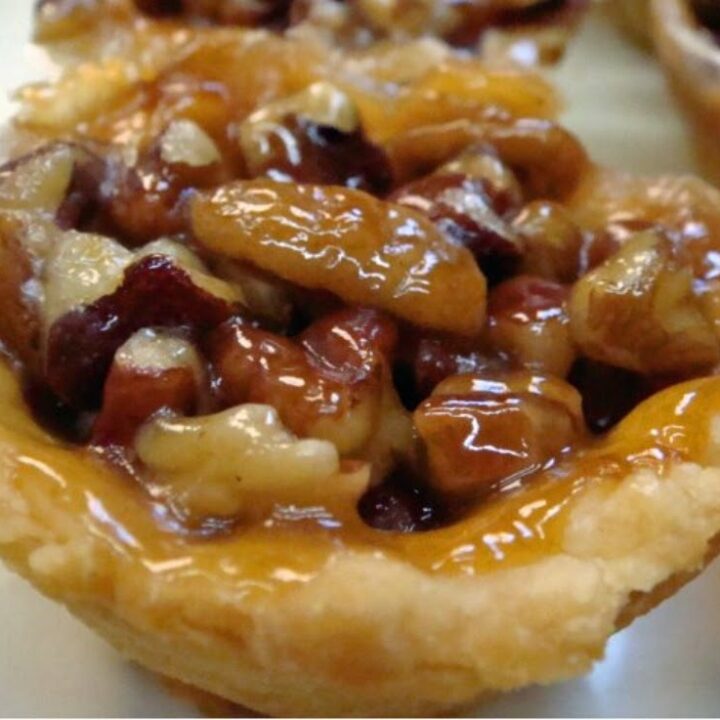 Pecan Tarts
Ingredients
1- 3oz. pkg. cream cheese, softened
1 stick of margarine or butter, softened
1 C. flour
Dash of salt
Blend together cream cheese, margarine, flour and salt. Shape into 24 balls; press each ball into 1 3/4″ muffin tins (press dough in bottom and sides with fingers, do not leave any holes).
Filling:
2 eggs, beaten
1 C. brown sugar
2 T. margarine or butter, melted
1 tsp. vanilla
Dash of salt
1 C. pecans, chopped
Instructions
Combine eggs, brown sugar, margarine, vanilla, and salt. Mix well (do not beat with beater, or tops will be crusty instead of a nutty one). Divide pecans evenly in pastry shells. Pour filling in shells, filling 2/3 full. Bake at 350 degrees for 20-25 minutes. Cool slightly before removing from pans. Cool on wire rack. Makes 24. "Nutty" rich–a real favorite.
Nutrition Information:
Amount Per Serving:
Calories:

0
Total Fat:

0g
Saturated Fat:

0g
Trans Fat:

0g
Unsaturated Fat:

0g
Cholesterol:

0mg
Sodium:

0mg
Carbohydrates:

0g
Fiber:

0g
Sugar:

0g
Protein:

0g
Remember it later
Like this recipe! Pin it to your favorite board NOW!